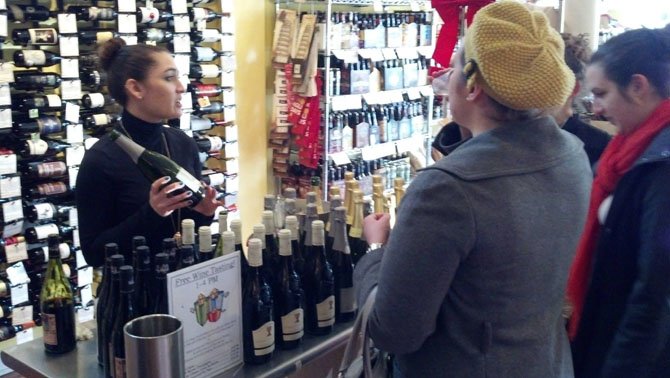 Holiday season means parties, hostess gifts, office Secret Santas and other occasions where many people bring a bottle of some spirit or other to spread good tidings.
So what to pick up? What's right? What kind of wine goes with what kind of food? And where to go for some good advice?
A handful of wine shops provide some advice to readers for a happy party season.


Arrowine
4508 Lee Highway, Arlington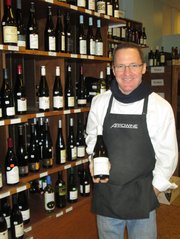 The holiday party season used to be limited to the time between Thanksgiving and New Years, but some companies are scheduling parties into January, making the festivities last a little longer, said Doug Wedding, a clerk at Arrowine in Arlington.
A good choice for holiday parties during cold weather are "high-end big reds, Champagne, ports and aged Malbecs," he suggested. Red wines are popular when the weather gets colder because they make the drinker feel warmer and compliment many heavy, festive dinners, including roasts.
If bringing wine as a hostess gift to a dinner party, "try to assess what you're having for dinner," Wedding said. "If you don't know, taking a Meritage or blend, maybe a Bordeaux with Cabernet, Merlot or Cabernet Franc," as those wines tend to compliment heavy dishes with delicate flavors that don't overwhelm.
For his Christmas dinner, Wedding said his family enjoys paella, a Spanish dish that typically contains a variety of spices and meats, ranging from chicken and sausage to shrimp. His personal favorite wine for that dish is an Abariño, "a wonderfully delicate wine that pairs well" with a complex, flavorful dinner.
If the main course, or any course, involves fish, don't automatically assume white wine is the only way to go, Wedding said. "You can start with a white with some weight to it," he said. A Pinot Grigio, which is slightly acidic and can cut the oiliness of the fish, is a good choice. After that? "Red all the way," he said.
Of course, for New Years Eve and other festive times, it's hard to go wrong with bubbly beverages, from French Champagne to Italian Prosecco or Moscato.
"The myth is that champagne is only for celebrations," Wedding said. "I'd drink it every day."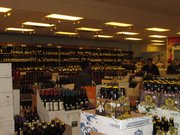 Big sellers this year include Argentine Malbecs, and the stock at Arrowine is extensive to reflect consumer's demands. "For newbies as well as those with a more experienced palate, it just works," he said.
For those who would rather talk to someone before purchasing a bottle or 10, find a wine store that can be trusted, or look on the back of a bottle that was enjoyed. See who distributed that bottle locally, and find out what other kinds of wines come in through the same importer or distributor, Wedding said. That can be a good way of paring down what can be an intimidating selection process.
All else fails? Ask. Ask the people at a local wine store, especially if it's a place where a customer is used to going. Be honest and forthcoming about wine preferences, either of the purchasers or the ones who will be enjoying the bottle, and discuss the person who will be enjoying the wine to make an educated guess.


Grateful Red
2727 Wilson Blvd., Arlington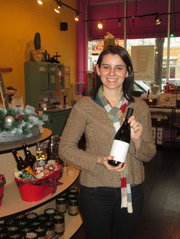 Specializing in small production vintners, Grateful Red carries a variety of wines from traditional Chardonnay, Rosé, bubbly selections and Pinot Noir. But there's also acting manager Alicia Calfee's current favorite, a blend of Zinfandel, Syrah and Petite Syrah called Sexual Chocolate. The bottle, with what appears to be a hand-written label drafted in pencil, is part of the story that comes with the selection, made by Slo Down Wines in California's Napa Valley.
Some customers come in looking for something safer, but others want something a little funkier, a little unexpected, a little different, Calfee said.
"You have to feel out the customer and find out what they're looking for," she said.
Slo Down Wine also makes a Chardonnay, called Broken Dreams, which also comes with a story about the winemakers and a third friend, who had some complicates that led to his departure from the company.
If it's hard to decide on just one bottle of wine, or if a customer wants to combine wine, cheese or other snacks, and gifts like candles, glass charms or stoppers, the store makes custom gift baskets. A short conversation with store employees and at least 24 hours' notice can result in a gift basket that meets the receiver's personality in an unexpected way.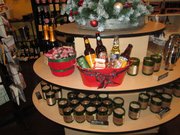 Prices for baskets range by what's inside, but there's a flat $10 fee for wrapping and the basket, in addition to a $15 fee for delivery within 25 miles of the store, located in Clarendon.
"You'd be surprised how far that will get you around here," Calfee said.
Those who walk in the door ready to buy will find dozens of wines on the shelves in the 18-month-old store.
This time of year, "reds always do well" for those en route to a holiday dinner, she said. "People just want something they know is tried and true. They want something that will be pleasing to people," and red varietals from California always are a big hit, Calfee said.
There are numerous selections in the $20-$30 range for those looking to give a gift, either to a dinner party host or for an office gift exchange.
"If you know nothing about the person getting the wine, we try to give options," and this time of year that often involves Pinot Noir, a lighter red variety that tends to be a crowd pleaser, she said. Other winners are blends of Grenache, Syrah and Mouvedre, called GMS blends by those in the know.
Grateful Red also sells craft brewed beers, including some local varieties, and hard ciders, which are sold by the six-pack or individual bottle.


Cheesetique
2411 Mt. Vernon Ave., Alexandria (Del Ray); 2056 Campbell Ave., Arlington (Shirlington)
When buying wine, environment can be important, said Missy Pankow, front-of-house manager with the Cheesetique location in Del Ray.
"If you're going to a dinner, you'll want to bring something nice, unless it's a big party," where many bottles will be opened, she suggested. While the holiday season tends to be a time in which people are willing to spend a few more dollars on a bottle of wine perceived to be nicer or of better quality, that will be less impressive if a bottle's sitting on a table with a dozen or so other options.
"If that's the case, you might want to go for something easier to drink, like a California Cabernet," something that's easily recognizable and people will know what to expect with the first sip.
If a bottle is to be given as a hostess gift, and might not be opened right away, consider a smaller batch, like Prisoner by David Phinney, a Grenache blend, or a Grand Reserve Rioja.
"Everyone is in the mood to indulge a little bit," Pankow said. "Even when buying for themselves, they go for heavier reds," and sometimes even more expensive bottles, regardless of their normal buying habits.
Those looking to buy a Virginia wine should consider Viognier wines, as it's the official grape of the commonwealth, she said. Viognier is a crisp white wine with "great aromatics, and it pairs well with turkey. It's a winner all around."
Also, consider not just the main dish of a dinner but sides and desserts as well, she said. One of her favorite pairings is apple pie with Sauternes, a sweet French white wine blend made from Sémillon, Sauvignon blanc and Muscadelle grapes. "There's nothing better," she said.
"It's one of the lesser known and under appreciated classes of wine," Pankow said.
Another great option for dinner is a good German Riesling, a slightly sweet wine that's popular during the holiday season.
"Wine by itself has so much going on, it can be hard to pair with food," she said.


Grape + Bean
118 South Royal Street, Old Town Alexandria; 2 East Walnut Street, Rosemont, Alexandria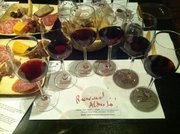 At the two locations of Grape + Bean, a wine and coffee bar that offers tasting classes and food pairing workshops, shopping for a good wine this time of year starts and ends with bubbles.
"We have bubbles year-round, but we definitely load up on Champagne and sparkling wines this time of year, said David Gwathmey, the store's co-owner. "We've got vintages 10+ years old, some to end wines that you don't usually see" that are great choices for discriminating palates.
There are also wines made from grapes grown in the Champagne region of France that are either bubbly or flat but just as good for celebrating. Those wines "give you a lot for the money" as they might have slightly smaller price tags with equally appealing flavors, he said.
Another way to go is a port or other kind of dessert wine. "This year, we've got a new range of Cohiba ports that a really special, rare, tawny port." Ports are fortified wines, typically from Portugal and served after dinner as a digestif.
A favorite of Gwathmey's is a Dona Matilde port wine. It comes in various ages between 10 and 30 years old, and the older the bottle, the smoother the taste.
But for a more traditional gift or bottle to have on the dinner table, consider "big red Italian wines," he suggested. "It's our most busy sales time of the year" for those varieties, including Chianti and varieties he called "Super Tuscans," which are not made in traditional styles and include the Barbaresco and Barolo.
Those looking to spend serious cash on a bottle of wine might have found their match with Super Tuscans, as they can run up to $200 per bottle, Gwathmey said. While not diminishing the good quality and flavor of wines that aren't priced nearly that high, he said if someone wants to treat themselves, or their guests, to a fancier vintage, "it will show itself. It's a subjective thing, of course, but it really is great to try really fine wines."
To really knock the socks off party guests, or to commemorate special milestones in life, his establishment offers oversized bottles of Champagne, including one that costs upwards of $700. "We sold one bottle of rare Champagne that was four feet tall," he laughed.
For those hard to buy for wine lovers, Grape + Bean offers classes ranging from wine and food pairings to discussions on varieties from a specific geographic region, he added.


Le Tastevin Fine Wines
1309 King Street, Old Town Alexandria
"As the weather gets colder, people are looking for full-bodied reds, for sure," said Tina Seashore with Le Tastevin Fine Wines. Côte du Rhone, Syrah, Grenache and blends featuring those wines are good options for holiday dinners and gifts.
But for those people who really like white wines, or want to give something a little unexpected, consider Rieslings, she said. This is a good option for people who don't like sweet wines but want something lighter than a red. It pairs well with turkey and other heavy meals and complements those flavors without overpowering them.
Champagne and other sparkling varieties, including Prosecco and Moscato, are surefire hits as well, with flavor profiles ranging from dry to sweet, depending on preference.
"There are certainly other sparkling wines made with the fine little bubbles but they can be made with different grapes," meaning even those who don't like drier Champagnes can find a festive drink, Seashore said.
Her store tends to carry wines from smaller producers, but a few Virginia vintners make the cut, including Barboursville, Linden and Glen Manor wines.
It's not unusual for people to come into the store, "do a lap and come up and say I have no idea what to get," she said. To help those customers out, she's happy to open a bottle and sample it, and the store keeps a good number of open bottles on hand for just such purposes.
"I work with smaller producers, so there's nothing here you're going to find at Total Wine or Giant," which can make buying wine, already an intimidating experience for some, downright terrifying.
To make up for that, "at least half" the wines in the store are $15 and under, with the rest in the $15-$30 range.


The Clifton Wine Shop
7145-C Main Street, Clifton
Like other proprietors, Lucinda Lawson, owner of the Clifton Wine Shop, is selling plenty of bubbly wines this time of year.
"We get lots of people asking about Champagne and other sparkling wines," she said. As she deals mostly with small producers, she's able to point to a few varieties, including some from Thibaut-Janisson, a winery based out in Monticello. It's one of her favorites and a great local selection, she said.
But don't overlook the Rosé, Lawson advised. "Don't be afraid of a sparking Rosé or Rosé in general. It's great on the Christmas table," she said.
Rosé is a lighter wine made with red wine grapes, but the skins are only kept in the fermentation process for a short time, imparting the lighter color, she explained. "You get a little of the flavor of red wines without the heaviness, and it's a drier wine, not as sweet."
Rosé wines don't have the citrus or buttery notes of white wines like Chardonnay that can conflict with some dinner menu selections. "Rosé is usually a little cherry flavor, or maybe blackberry. It's not sweet," she said.
Don't be afraid to ask questions in a wine store, whether it's about the wines offered, the wineries featured or for suggestions on what to get for friends. It helps sellers give better advice, especially if there's some information on what kind of wine the recipient likes or what will be served for dinner, Lawson said.
Pinot Noir is a staple this time of year as it pairs well with most holiday dishes and heavier meals. If the main course is something a little lighter, like a Chateau Briand, a bolder wine would be appropriate, she suggested.
For fish dishes, popular among those doing traditional Italian meals for Christmas Eve, Lawson has a simple rule: "The oilier the fish, the redder you can go." The bolder flavor of full-bodied red wines cuts the oily taste and texture of certain kinds of fish, making for a better pairing.
"Think about the food's source," she said. "If you're having seafood or shellfish, there's a lot of seafood served in countries like Spain or New Zealand. What kinds of grapes are grown there? That's a good first thought" when selecting a wine.


The Bottle Shop
Potomac Woods Plaza, Rockville, Md.
Mulled Wine
Fight off Jack Frost's wintry bite with this recipe for mulled wine, courtesy Christina Findley at The Bottle Shop.
1 bottle of red wine (try: Cabernet Sauvignon, Zinfandel, Merlot or Garnacha) or a six-pack of hard cider
1 Orange, juiced and zested
1/4 cup brandy
8 whole cloves
1/4 cup honey or sugar (if using wine or a dry cider, most ciders may be sweet enough)
3 cinnamon sticks
1 tsp fresh or 2 tsp ground ginger (allspice or star anise can be substituted)
Gently warm all ingredients on stove or in crockpot, taking care not to let the mixture boil. Taste and add more sweetener if you desire. Strain and serve in mugs.
With glittery lights filling sidewalks and house fronts alike, December takes on a shimmery appearance, which might inspire the surge in popularity for sparkling wines.
Or maybe it's just the endless parties and end-of-year festivities.
That's always the case at The Bottle Shop, said Christina Findley, the store's owner.
"From Prosecco to true Champagne, it's always a popular type" throughout the holiday season, she said.
There are plenty of other festive selections to consider, including mulled wines. It's easy to make, and many wine stores will have packages of pre-made mulling spices, sold in boxes containing pouches like tea sachets. Just heat a medium-bodied red wine, mix in the spices and enjoy, she said.
When trying to find a wine to give as a gift, it's best to know the person's preferences, Findley said. But some people come in wanting to commemorate an occasion, like the anniversary of a trip or a milestone wedding anniversary.
"Maybe you took a trip to Italy with your best friend 10 years ago and you want to remember that," she said. If that's the case, it's possible to make a personalized selection that comes close to something enjoyed during a trip, even if it's not exactly the same wine.
Wine retailers take on a festive feel in stores during November and December, which are the busiest months for them, she said. Odds are, if a customer is in the store looking for something other than a sparkling wine, he or she is looking for a bottle of something red.
"It's warming," she said.
Purchasing wine can be daunting, especially for those who don't usually drink wine. But staff are there to help. "Finding a good wine store where people can make recommendations, tell you which wine goes with what foods" can make all the difference, Findley said. "We pride ourselves on making personal recommendations, which can make wine buying feel less intimidating."