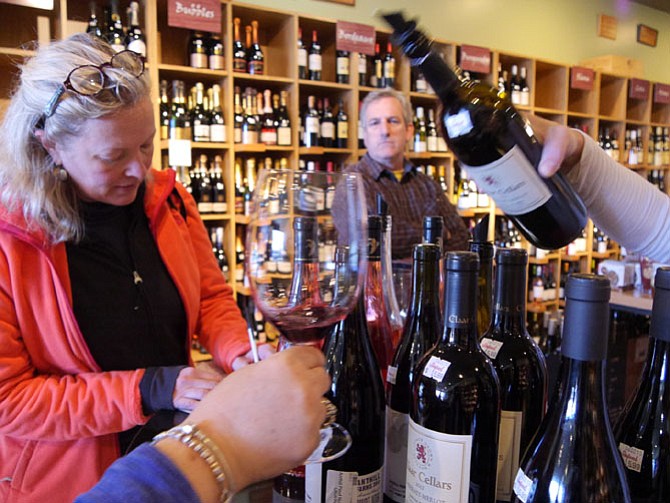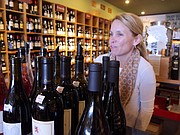 "No this isn't really a brie; it looks like it but is not the same texturally. It is made by a Vermont creamery, Jersey cow milk." Vanessa Moore, proprietor of Unwined in the Bradlee Shopping Center added, "the rind is wrapped in tree bark but it's runny inside. You just scoop it out. It is so good."
Marion Brady is looking for an Easter gift for dinner and says she doesn't know all of these cheeses and doesn't want something too strong. she knows she can always get something special here.
A Van Morrison song is playing in the background. Moore is about to open the bottles for the weekly Saturday afternoon wine tasting. "We feature new arrivals and wines for traditional holiday feasts." she said. The first bottle pops open. "This is a rosé from the village of Tavel in the Southern Rhone Valley. We just got it in yesterday. It is a wine drinkers rosé, not as light and delicate."
Reed Stuntz, a long-time customer, steps up for the first taste. "This is a regular for me. It's a great producer."
Moore says the wine shop specializes in smaller producers that represent where they come from, new grapes, new appellations. "We have about 1,000-1,200 different wines. We like to educate people about their origin," she said.
They combine new wines with familiar items. "The store is about discovery and rotation." Moore has owned Unwined for 10 years and has some customers since the beginning. "One man is from South Africa and back when no one else was paying attention he would tell me about the great South African wines, what to buy. " She said, "It's not what we like; it's what the customers like. Of course we want to drink it, too."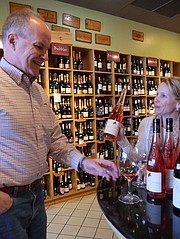 Thinking back, Moore says she has seen customers change since she started selling wine. "It used to be they would come in looking for something they recognized and would feel lost if they didn't find it. Now I will suggest something new and they will try it. I think it is because people are so well travelled and exposed to different cultures." She said when she was growing up in Baton Rouge, La., that her family went camping for vacations but now people travel all over.
"I didn't learn about wine until I moved to Alexandria and worked here part-time while I was in graduate school before I bought the store. Her parents aren't big wine drinkers and will leave an opened bottle on the table for months thinking they can finish it. "I send them half bottles," she said.
When she was learning about wine, "I sold the same one kind of wine over and over to everyone because I knew all about it." But over time she became more comfortable as she learned about all of the wines in the store.
As much as Moore loves finding out about wines and cheeses and all the other products in the store, she says what she really likes are the clientele who come in happy and excited to be there and the physical labor that involves 10 hours a day on her feet delivering wines, stocking shelves and "a lot of running around." But she says once in a while some days when she is exhausted she thinks, "If I could just come in and talk to people, I'd be happy."
Moore says she wants a wine to speak to her before she has it in her mouth. If she had to choose it would be Northern Italian reds, something aromatic. "I love champagne." She reaches around for more wine glasses and pours a taste of red. "This is a Sonoma Coast Pinot Noir from Anthill Farms. It can stretch from ham to lamb for Easter dinner."
A second store is located in the Belleview Shopping Center. She says it is the same experience but has a different space and wine selection and a huge parking lot out in back where they have outdoor events including a yearly anniversary celebration. In addition winemakers visit both stores for special tastings, and an educational series is offered in sit-down classrooms. They also help customers match wines to their meals. "Right now we're working with a bride and groom and another group has a wine club and bring in their courses for us to match."
Stuntz walks by; "It's spring," he said. "I have a six-pack of different rosés."