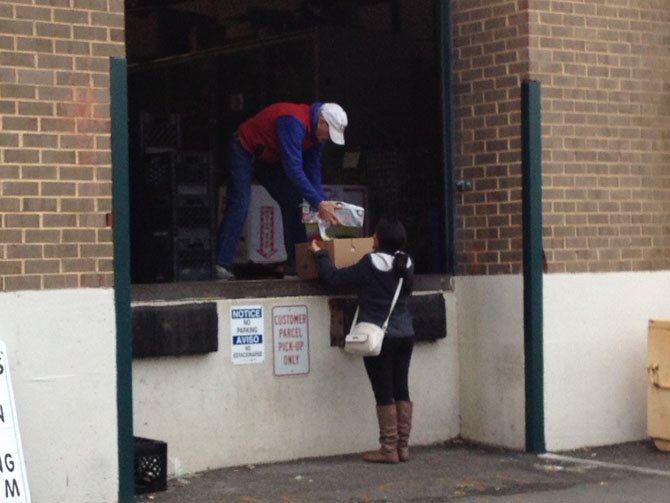 Melinda Anderson, 50, of Alexandria is feeling the extra pinch to her federally-subsidized food budget.
"I have had to eat less and hit up more food banks in the area just to survive," she said while collecting her monthly food allotment from the Fairfax-based food-bank Food for Others. "I'm visiting three [food banks] a month now."
Anderson and the other 456,626 Virginians are amongst the 47.7 million Americans enrolled in the Supplemental Nutrition Assistance Program—also known as food stamps, all of whom had their monthly food benefits cut on Nov. 1, after a four-year temporary boost from the Recovery and Reinvestment Act (RRA) expired. Virginia experienced a $99 million cut last month when the boost ended. For Anderson, a childless adult, her food benefits went down $11 a month to leave her with a max amount of $189 per month. A family of four is receiving $36 less a month from a max benefit of $668 to $632. And more cuts could be on the horizon once Congress reconvenes next year.
"We've seen a definite increase in referrals for food since the November first reduction," said Lisa Whetzel, executive director of Our Daily Bread, a Fairfax-based nonprofit servicing local disadvantaged families. Her nonprofit receives referrals from social workers on who should be admitted into their food assistance program. "These single mothers, or people with very low income, they need this assistance in order to just make ends meet or to just keep the lights on—especially in this area. I've heard some people say that cutting SNAP is doing the poor a favor—I disagree."
THE REDUCTION isn't necessarily a cut, as many politicians will argue, because the benefits were always intended as a temporarily boost, not a long-term payment-plan. But the Bureau of Labor Statistics puts the total national unemployment rate at 7.9, which is 0.1 percent higher than in 2009 when the RRA boost was enacted—hardly a major recovery. The D.C.-metro area has not recovered well either, being tied in October with the Boston area for the largest metropolitan unemployment rate increase over the last year at 0.6 percent, landing the D.C. area at a 5.9 unemployment rate.
While the total unemployment rate in the metro-area is low compared to the worst-hit parts of the nation—though D.C. by itself ranks amongst the highest at 9.9 percent, the increase in unemployment hints there is not an instrumental economic growth happening in the area. Without economic growth, those relying on SNAP to feed their children, and themselves, are left scrambling.
"I'm working as a CNA (certified nursing assistant), but it's never steady. We have to come here after everything is finished," said Amany Hussein, 47 of Alexandria, about visiting Food for Others. Hussein said even with her job, being in the SNAP program, and her husband's two jobs as a pizza delivery man and taxi operator, they are still unable to feed themselves and their two teenagers after paying their $1700 monthly rent.
Executive Director of Food for Others Roxanne Rice said she sees first-hand the growing economic problems in the area. As she compared the number of patrons to her food bank from last October to this October, she saw a staggering 28 percent increase—and the SNAP reductions are only going to add to her figures for November, she said.
Those enrolled in SNAP could have even more cuts to fear next year. The Republican-led U.S. House of Representatives recently passed a bill cutting the program by $39 billion over the next 10 years and is awaiting Senate approval. While the cuts are unlikely to pass, even the Senate is looking to cut $4.5 billion over 10 years from the most expensive food stamp program the nation has ever seen—$80 billion a year. The House bill as it stands would potentially cut 3.8 million Americans from the program entirely within the first year, and could especially hurt families with children.
AT LEAST FOR NOW, the Fairfax County Public School system has been picking up some of the bill for those children in need, said Food and Nutrition Director Penny E. McConnell. While all children whose families are enrolled in SNAP, homeless children or children in foster-care receive a free lunch during school days, there are disadvantaged children who fall between the cracks. With the proposed SNAP cuts, the Center on Budget and Policy Priorities, predicts many children across the nation will lose their free lunches.
"It doesn't help anybody to cut food stamps," said Rice. "Increasing minimum wages, encouraging ways to end disparity of income in our society is definitely needed, but that has nothing to do with helping people in other ways."