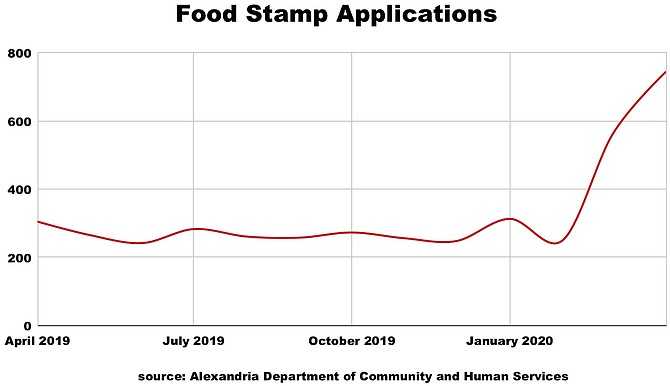 Recent weeks have seen a dramatic spike in the number of people in Alexandria with no resources to put food on the table for their families, leading to a skyrocketing number of applications for food stamps as unemployment numbers climb and people in Alexandria suddenly find themselves in an awkward position — asking for help from the government just to buy groceries. Officials at the Alexandria Department of Community and Human Services say applications to the Supplemental Nutrition Assistance Program have more than tripled since February, before the novel coronavirus pandemic prompted Gov. Ralph Northam to issue a stay-at-home order and shut down most of Alexandria's economy.
"We're receiving the same number of applications in one week now as we would an entire month a year ago," said Kate Garvey, director of the Department of Community and Human Services. "We really have to think about the level of need that is created in this environment, which is significant."
City officials say they are seeing a rise in expedited applications, which means that the individual applying for benefits has no source of income and no resources. In normal times, this accounts for a small fraction of applications. But recent weeks have seen a dramatic spike in that number. Numbers from the Federal Reserve show that the number of people filing for unemployment insurance in Virginia jumped an eye-popping 5,000 percent in the last half of March, an unprecedented increase that has not been replicated with applications for SNAP benefits.
"We're not seeing the same level of people applying for SNAP as we saw applying for unemployment," said Salaam Bhatti, director of Virginia Hunger Solutions. "By and large if you've lost your income, you're going to be eligible for SNAP for at least a couple of weeks before the unemployment benefits start coming in, so the concerning part of that is not enough people have been signing up for SNAP."

THE FOOD STAMP PROGRAM dates back to 1939, a time when the masterminds behind the New Deal were trying to figure out a way to balance overproduction on farms with underconsumption in the cities. It was discontinued when the Great Depression ended, although the program was revived by President John Kennedy as a pilot program in targeted areas of unemployment to spur the economy and head off a recession. President Lyndon Johnson signed the Food Stamp Act in 1964 as part of his War on Poverty over the objections from some in Alexandria.
"There are certain things I don't believe in," said U.S. Rep. Howard W. Smith, the powerful Rules Committee Chairman who represented Alexandria in the House of Representatives. "If I'm wrong, you can turn me out any time you want to."
Congressman Smith was turned out of office in the next election, when a more liberal state senator beat him in the 1966 Democratic primary. But opposition to the program lingered for years, even after it was rebranded the Supplemental Nutrition Assistance Program in 2008. Gone are the old fashioned stamps from the New Deal era in favor of electronic benefit transfer cards that load benefits at the beginning of each month. But the food stamp program continues to carry a stigma as an entitlement program that contributes to the national debt.
"Historically there's been shame and a feeling of not wanting to be a burden to the system," said Lesa Gilbert, director of Social Services. "With the public charge rule, many immigrants are hesitant to apply for any kind of benefits for fear that it'll impact their chances of becoming a citizen."
THE TRUMP ADMINISTRATION came into office with an agenda of reforming entitlements, and federal officials have already made several key changes and are still considering more. One is the public charge rule, which punishes immigrants seeking to become citizens who take any kind of public assistance. Another rule still under consideration would prevent states from expanding the number of people who could receive food stamps by changing the eligibility, increasing it from 130 percent of the federal poverty rate to 200 percent of the federal poverty rate. More than 40 states currently have less restrictive income and asset tests that the federal government, although Virginia is not among them.
"I think what has changed in recent years is you have extreme anti-government activists in Congress who want to get rid of any sort of safety net program," said Victor Chen, assistant professor of sociology at Virginia Commonwealth University. "So they are trying to paint food stamps as going to people who don't deserve it."
Participants in the program receive a very limited benefit, a maximum of $200 a month for an individual. That works out to about $2.15 a meal, and in order to receive that benefit an individual would have to submit paperwork showing they earn less than $17,000 a year. Advocates for the program have long argued that the program benefits the local economy just as much as low-income individuals, generating $1.70 in economic activity for every $1 received by a beneficiary. Six states currently allow recipients to use the benefits online, but Virginia is not one of them. That means that seniors who receive food stamps or people with underlying health conditions are forced to put themselves in danger by going in person to the grocery store to use the benefit.
"We can use an unmanned drone to kill somebody on the other side of the world, but we can't roll out this program to help our low-income neighbors use an electronic card online," said Bhatti. "It boggles the mind."
CONGRESS IS CURRENTLY considering a number of changes to the program, prompted by the economic crisis created by the pandemic. Senators Mark Warner and Tim Kaine both signed on to a letter last month urging Senate leadership to increase the maximum benefit 15 percent and escalate the monthly minimum from $16 to $30. The letter also calls for the Trump administration to ditch the proposed rule that would prevent states from expanding the number of people eligible for benefits.
"Because the benefit is so small, most SNAP households barely make it to the end of the month," Warner and Kaine wrote in the April 29 letter. "We can avert the risk of poverty and food insecurity among American families and children while improving our chances for an economic rebound by investing in SNAP."
Several other proposals are also under consideration in Congress. One would allow benefits to be used for hot food and prepared food, currently forbidden under the exiting rules. Another would allow undocumented immigrants to participate in the program, which is currently not available to people who are not citizens. At the state level, lawmakers are preparing for a special session to scale back Virginia's revenue forecast. One item that may be on the agenda is having Virginia adopt something known as Broad Based Categorical Eligibility, which would expand the number of people who would be eligible for food stamps by allowing them for people who earn as much as 200 percent of the federal poverty rate.
"With the pandemic in place, it's something I think there would be broad support for," said Sen. George Barker (D-39). "A lot of people who don't necessarily participate in programs like this might be able to benefit from it significantly."