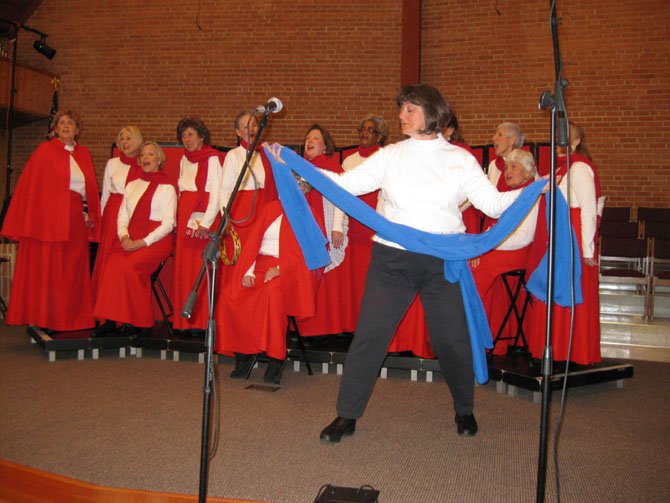 The all-volunteer Celebration Singers performed their final holiday concert of the year on Sunday, Dec. 15 at St. John's United Methodist Church in Springfield. The group started at Springfield Methodist Church in the 1960s by the name of the Wesleyan Singers. Some of the ladies have been singing together for 40-plus years. And through the years, membership has reached 66 people, but has since dwindled to 18.
The all-female ensemble sings three, four, and five-part harmonies with huge audience interaction. They sing and dance at nursing homes, assisted-living facilities, benefits for Make-a-Wish and the Salvation Army, Fischer House at Walter Reed Hospital, and even the White House.
Anne Miller, 77, of Fairfield, Va., near Lexington, started directing the group in 1971 and has remained ever since. "It's just something I love," said Miller who has been singing since age 6 and hails from Clinton, Okla. "I love to direct, I love to sing and I love to make people happy."
Miller was married to Grant Miller, an Air Force Lawyer, and directed the Tripoli Choral Society while they were stationed in Libya. She received a master's degree in vocal performance from the University of Hawaii in 1969 and moved to Northern Virginia in 1971. That year, she performed in the Leonard Bernstein Mass at the grand opening of The Kennedy Center in front of Jackie Kennedy.
Betty Aldrich, 70, of Falls Church says Miller is amazing in her ability to pull out choral perfection from the group. "She teaches us how to center," said Aldrich who's been a member since the mid-1980s. "She gets a beautiful sound with us."
Jenny Squire, 64, of Springfield, who wrote the script and emceed along with Karen Weinberg, agrees: "She gets from our group a sound that nobody else could get." Squire is also passionate about performing live at nursing homes and hospitals. "It provides them with a window on the world that they can access," she said. "We provide live entertainment, which means it's one-on-on." She loves to see responses like foot tapping or people mouthing words. After a performance, the singers usually go out and shake hands and greet people. "It's all about reaching them," she adds.
For their Christmas Show on Sunday, the group wore brightly colored handmade costumes and danced to the choreographed songs, "O Holy Night," "Hanukkah's Child," "Christmas Waltz," and "African Advent Carol," among others.
For Willa Lutz, 64, of Falls Church, she enjoys the friends she's known for 20 years. "I like to sing and dance," she added.
Nora Steiger, 85, of Springfield has been singing with the group for 40 years. She plays a washtub bass using a broomstick and one string, sometimes called a "stumpf-fiddle." She calls Miller "very patient and gentle."
Lydia Garner, 62, a one-year member from Sterling, says Miller adds humor to the mix. She says she loves "the gratification of knowing I brought a smile to people's faces."
For Karen Weinberg, 58, the Celebration Singers is "like a family." She enjoys the camaraderie and says it's more than just singing. "We get as much out of the performance as (the audience) does."
"It's really like a big caring family of all sisters," added Gayle Parsons, 63, of Springfield, a pianist who's been with the group six years.
After Labor Day, the group goes to the Middlebrook Retreat Center for two days where they begin practicing the songs and choreographing the moves. After polishing the show for about three months at Burke United Methodist Church, they are ready to give their holiday concert.
Alice Groenig, 64, directs a subgroup called "Sounds of Joy," that does smaller shows with eight singers. A member for 28 years, she enjoys "the joy and happiness of seeing people's faces who don't get to see live entertainment."
Celebration Singers is always looking for new members. If interested in joining, email Jenny Squire at JennySquire@yahoo.com.