Broadway actress and singer Jeri Sager will offer a free concert to the public on Saturday, July 26 at 7 p.m. at Westwood Baptist Church as part of the celebration of that church's 50th year. Sager is a former member of the church, and it is there that she first discovered her musical gifts and sang in front of an audience.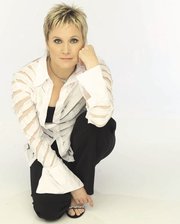 Sager was 12 years old when her love of singing, and her amazing voice, were first discovered. Her first public performances were in Westwood Baptist, her local church. This hometown girl graduated from West Springfield High School in 1978 where she was a member of the International Thespian Society, the National Honor Society, the Spanish Honor Society, and the Keyettes. As she grew up, Sager's passion for singing grew into a life-long love affair. She studied Opera (Vocal Performance) at Catholic University of America in Washington, D.C. Like many young people with big Broadway dreams, it was hard to find the path to achieving those lofty goals. One of her first musical theater jobs was working as a cast member at Kings Dominion. Ultimately, her profound love of performing led her to New York City. There she made her Broadway debut as "Frumah-Sara" in the Tony Award winning, 25th Anniversary Production of "Fiddler on the Roof." The New York Times review of this production said "When Fruma-Sara [Jeri Sager] scurries across the stage... 'Fiddler' levitates."
Sager has enjoyed critical acclaim for her portrayal of "Fantine" in Les Miserables and "Eva Peron" in Evita. She is delighted her career has allowed her to work with such theater notables as Tony/Oscar Award winning director Jerome Robbins, Tony/Drama Desk Award winning director Trevor Nunn and Tony/Drama Desk Award winning singer/songwriter and playwright Rupert Holmes.
Sager has also enjoyed performing with celebrated artists such as Bob Hope, Gregory Peck, Michael Crawford, Betty Buckley, Theodore Bikel, Bill Anderson, and John James. She has had the honor of performing for such dignitaries as President Jimmy Carter, President George W. Bush and Pope John Paul II. Through her work with the USO, Sager has performed for both American and British troops. Other notable appearances include her rendition of the National Anthem for the Baltimore Orioles on July 4 and her debut at the Grand Ole Opry.
Make plans now to attend this free concert on Saturday evening, July 26 at 7 p.m. at Westwood Baptist Church, 8200 Old Keene Mill Road, Springfield, to enjoy the music of Jeri Sager. Theater students and musical theater students are especially encouraged to attend and see how this lady from the local area has achieved brilliant success and critical acclaim in this competitive field. For further information, call the church office at 703-451-5120 or visit Sager's website at www.jerisager.com.