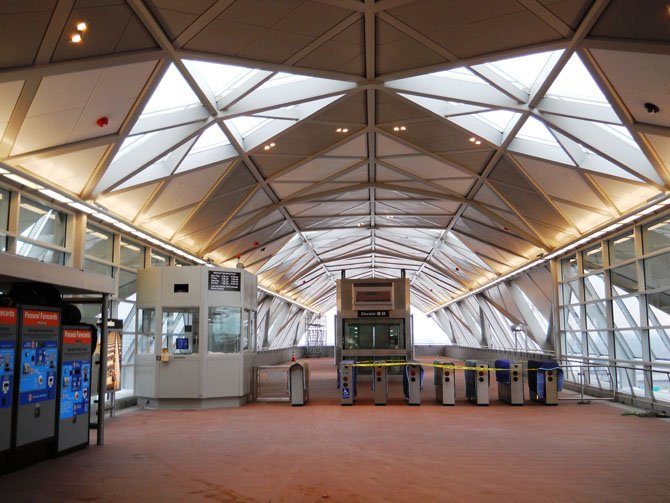 Silver Line construction and future development projects top local leaders' lists for the most pressing issues of 2014. Reston is preparing for the opening of the Wiehle – Reston East station in the second quarter of the New Year, and community members are both excited and concerned about potential congestion around the new station on Wiehle Avenue.
"We need to make sure that around the stations we are developing in a way that allows for an urban community to grow while maintaining the town feel of Reston," said Reston Citizens Association (RCA) president Colin Mills.
Herndon's Town Council is also preparing for the presence of the town's future Metro station, located between Herndon Parkway and the Dulles Toll Road, by adopting a new Zoning Ordinance Text and Urban Design and Architectural Guidelines for the surrounding buildings. "We rezoned it at a much higher density so that when development begins it will be a transit-oriented environment," explained Herndon Mayor Lisa Merkel.
Del. Tom Rust (R-86), chairman of the Transportation Committee for the state of Virginia, is taking steps to ensure there is plenty of funding for continued progress toward completion of the stations in both towns. "Transportation remains the issue now, that we will have funds to make sure they are spent efficiently, appropriately and correctly," he said following his Dec. 19 Town Hall meeting at the Herndon Council Chamber. Del. Kenneth Plum (D-36) remarked that he will also work to make sure that local governments have the ability to use allotted funds appropriately to relieve congestion when the state's General Assembly begins their session in Richmond. Del. Rust (R-86) and Del. Plum (D-36) suggested that a TIFIA loan, which provides supplemental federal loan assistance to nationally or regionally significant transportation projects, according to the U.S. Department of Transportation's website, could help to reduce future toll increases for commuters in the area.
Herndon and Reston leaders are also prioritizing upcoming large-scale development projects. Herndon's Economic Development Task Force hired the town's first Economic Development Manager, Dennis Holste, in August 2013, and hopes to secure a contract with a development company in 2014 to draft a master design plan. The town's 2030 Vision branding campaign gained footing in 2013 with local businesses and residents through storefront advertising, as well the launch of dineonherndon.com, which showcases more than 120 local restaurants online.
"We came up with the new logo campaign to say that this is a place where things are happening and people are busy," said Merkel. "We know that people come to Herndon for Friday Night Live and the Homecoming Parade and the Bike Trail and the Festival, and we're trying to really capitalize on those things."
Reston meanwhile awaits a decision in 2014 from its community task force on future development plans, which include potentially constructing additional plazas in Reston's less busy shopping centers.
Founder Robert E. Simon hopes that plans to build plazas in areas of Reston, part of his original vision for the planned community, will catch on with local leaders voting on the future of Reston. "The reason plazas are so important is that that's where people go to not only eat, drink and shop, but also to meet each other," said Simon. "This is what I see as what holds a community together."
Reston also anticipates decisions in 2014 for the redevelopment of Lake Anne Plaza and the nearby Crescent Apartment complex, led by Republic Land Development. Republic was chosen in July 2013 to be the company in charge of redeveloping the plaza. On Nov. 21, the Reston Association voted to make a land swap with Republic, exchanging two one-acre pieces of land in a move that provides space for Republic to build a 120-space parking garage for Lake Anne Plaza. The coming year will present additional opportunities to gain land permits and, in coming years, break ground for redevelopment of the plaza.
An additional important milestone for Reston in 2014 is the town's 50th anniversary, which coincides with Simon's 100th birthday in April. The annual Best of Reston Awards, which will take place April 10, 2014, at the Hyatt Regency Reston, will commemorate both the anniversary celebration and Simon's birthday, and will serve as a fundraiser to support affordable housing initiatives for Cornerstones, formerly known as Reston Interfaith.
"I think 2014 is going to be a very exciting year to be involved in the community," predicts RCA president Colin Mills. "While I think we'll all be very busy, it will be very rewarding."