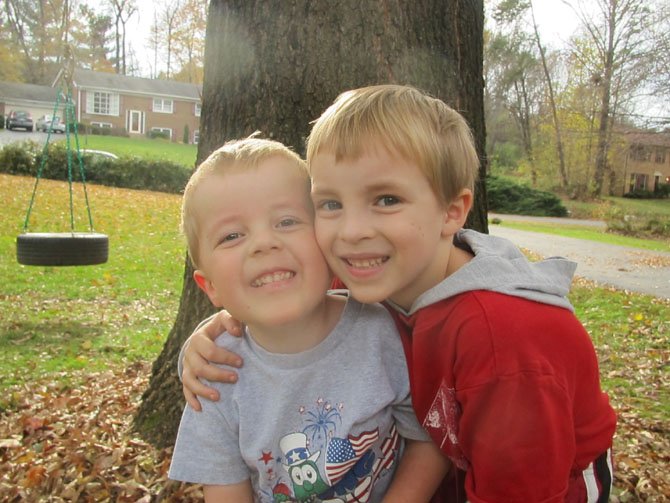 Two hundred plus friends and family will descend on Santinis Restaurant in Herndon to raise support and awareness for Congenital Muscular Dystrophy on Thursday, Feb. 7, from 5-9 p.m.
One in 10 Americans is affected by a rare disease. John Gluck, of Herndon, is that one in 10 with a rare form of muscular dystrophy called congenital muscular dystrophy (CMD).

As a rare group of diseases causing muscle weakness at birth, CMD is under-recognized and under-diagnosed by physicians. Several defined genetic mutations cause muscles to break down faster than they can repair or grow. A child with CMD may have various neurological or physical impairments. Some children never gain the ability to walk, while others lose the ability as they grow older. There is no cure and no treatment to slow disease progression.
For John's parents, Charles and Jennifer, it took many months of doctor visits, tests and their own online research leading them to the Cure CMD (Cure Congenital Muscular Dystrophy) website to ultimately find a diagnosis for their son. The hardest part of getting the diagnosis is the finality in knowing the disease is progressive. Recently John, who is 4 years old, proudly walked from the bathroom all the way to his bed, "Dad, I did it!".
"That's what it's all about," said Charles.
Four-year-old John Gluck has never slept at night without wearing a cast, a brace, or a feeding tube attached to him.
"I never thought I would be connecting a feeding tube to a hole in my sons stomach", said his father Charles. Although John can walk with a walker and braces, he will transition to a wheel chair in the coming years. The muscles in John's body are slowly losing their strength. This will cause scoliosis and breathing issues soon at a minimum.
John's parents are in a race to help him gain as much strength now to minimize future health complications. The race keeps his parents very busy traveling to physical and functional therapies, swimming therapy and horse therapy every week. In addition John's mother Jennifer has been busy using her engineering skills to build PVC walkers for John. She has built several now, each one slightly larger and improved. John is not affected mentally by his condition and has developed a very strong singing voice. An admitted Veggie Tales fan, John has most of the songs memorized and sings them while walking around Frying Pan Park on his horse Spirit, through the Spirit Equestrian Program. Lately John has become more of a risk taker, walking with his eyes closed to see what happens. That habit prompted the installation of a foam floor in the house to protect John's head. John currently attends Floris Preschool where he has been warmly received by teachers and students.
So little is known about this horrible disease and how it can affect children," Jennifer said. "Research is sorely needed. Greater awareness among medical professionals about the nature of rare diseases, what they look like and how families should care for their children when they are affected is equally needed."
Dr. Anne Rutkowski, chair of Cure CMD, advises families to be strong care advocates for their loved ones. "With 7,000 rare diseases, it's even more important for the family to be involved in the care of a loved one and advocate for them because there may be only a few doctors, and only a few medical centers, with expertise in a particular disease," Rutkowski explained. "For many clinicians, you may be their one and only person with CMD they will ever see in their entire career."
For the Gluck's, there is cause for hope. Four years ago, three parents of children with CMD launched Cure CMD, a nonprofit all-volunteer organization dedicated to optimizing care for people affected by CMD, finding treatments and, eventually, a cure. 
For more information on Cure CMD, please visit www.curecmd.org or the National Organization for Rare Disorders at www.rarediseases.org.