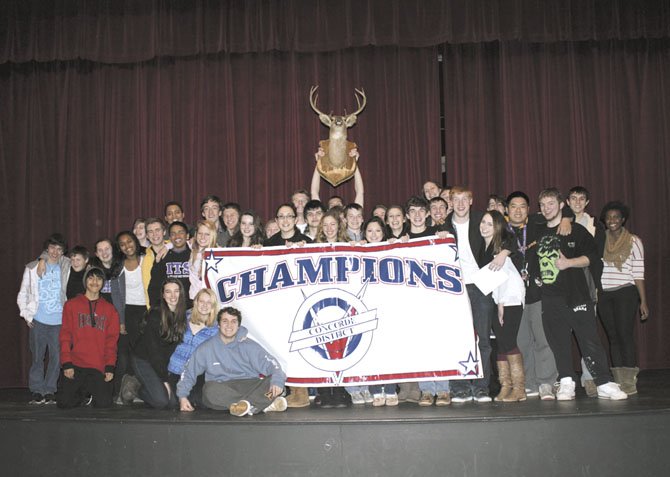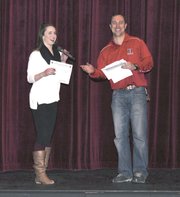 Chantilly — Chantilly High's Theater Department is on a roll; it captured first place in last week's VHSL One-Act Play District Competition and is now headed to regionals.
The school's theater director, Ed Monk, wrote and directed Chantilly's entry, "At the Bottom of Lake Missoula," and seniors Nicole Paladeau and Matt Calvert both received Outstanding Acting awards. The drama has a cast and crew of 40.
"It's about a college girl whose family is killed in a tornado, what happens to her afterward and how she learns to cope with the tragedy," said Monk. He's more known for his comedies, and this is only the second drama he's written. "It has a large cast and I had so many talented kids that it's the only play I had that could fit them all," he said.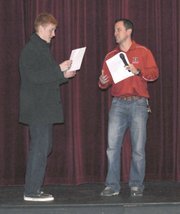 The competition was held Monday, Jan. 28, at Herndon High, with Chantilly's play beating Westfield's, Robinson's and Oakton's. Both Chantilly and Oakton, which finished second, advanced to regionals, which will be held Feb. 16 at Lake Braddock against seven other schools in the Northern Region.
In the play, Paladeau portrayed the girl and Calvert played a boy she meets at college. "I think they deserved to win their awards," said Monk. "They both did a really good job — especially Nicole, because it's a really difficult role to play. She had to go through so many emotions."
Regarding Chantilly's victory, he said, "You can never be sure what the judges will do. You just hope the kids will give their best performance, and that's what they did. The judges complimented them about how involved they were in the story and in their parts. They also noted how well the members of the ensemble worked together, so I was glad to hear that."
Paladeau was excited about Chantilly's first-place finish because "we worked really hard on this play to make Mr. Monk proud. This is his show and he wrote it, and I was just happy we could perform it our best for him and show it to everyone else." It's her first acting award so, she said, "I was shocked to receive it. But I was happy because it validated our hard work."
Her character, Pam, is a college sophomore dealing with the aftermath of her family tragedy. "For most of the play, she's in shock and shuts the world out," said Paladeau. "She has all this emotion inside her, but doesn't spill her guts until toward the end of the play."
Paladeau really enjoyed her role. "I've never gotten to play something that intense before and I love dramatic acting," she said. "I really got into it, and it was cool to work on something that I've never done before and explore those kinds of emotions."
But she attributes the play's success at the district competition to more than the acting. "I think the writing was so cool, and the staging and lighting was different," said Paladeau. "And it was written so beautifully that I think it really captured the judges' attention."
Calvert said it felt great to win the competition. "Every time we go to one, we never know how we'll do," he said. "But this is the third year in a row, that I know of, that we've come in first in districts. Our play is an absurdist-theater piece, very dramatic, with a strange and interesting stage set-up. Besides the actors, there are about 20 people behind six or seven panels, and they provide ambience and percussion sounds throughout the entire show."
His character, Jim, attends college with Pam. "He's your average nice guy, friendly and easygoing," said Calvert. "He's never had to face hardships. He gets assigned Pam as a lab partner, and he can usually make people feel better by telling a joke or talking to them. But in her situation, he can't do that. So he has absolutely no idea what to do or say to help her."
Calvert said his role is, by far, the hardest he's ever had to play. "I had to really dig deep inside myself to see how I'd, personally, feel about dealing with someone whose entire family was killed," he said. So he's pleased with his acting award because "many hours were spent trying to perfect this character. And it feels really good — for both Nicole and I — that all our hard work paid off."
As for how Chantilly will do at regionals, Calvert said, "It really depends on what the judges think and what other shows are being performed. But I think we'll do really well because we all really care about this show and we love doing it."