Local students showed off their acting chops last week when Chantilly and Westfield high schools finished first and second, respectively, in the Concorde District portion of the VHSL One-Act Play Competition. It was held Monday, Jan. 30, at Herndon High.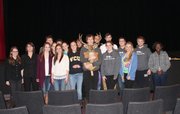 Five schools in the district competed. Now, the top two schools from each of the four districts comprising the Northern Region advance to regional competition, Feb. 11, at Lake Braddock Secondary School.
Chantilly's winning entry was "Going to School," which it performed to acclaim, 10 years ago. Parents bring their son Nick to college, along with his two sisters and his grandmother. The action takes place during breakfast before they leave home, during the car trip, in a registration line at college and in Nick's dorm room.
"It follows all the horribly embarrassing things Nick's family does to him and says about him that day," said Director Ed Monk. "Everyone can identify with that experience."
He said it's a difficult show to perform because "there's nothing to hide behind — no sets, costumes or props. The car scene is done with six chairs. So the actors had to create something the audience could believe in, and I thought they did a really good job of that."
Junior Matt Calvert portrays Nick, and John Downey plays his alter ego. "John gives Nick's side of the story, the way Nick sees himself," said Monk. "But then the audience sees what really happens." Playing Nick's mom and dad are Amanda Miesner and Robbie Novak, respectively. His sisters are played by Samantha Jones and Nicole Paladeau; Kelsey Monk portrays his grandma.
Monk attributes his students' success at Districts to the fact that the judges "believed in the family" they saw on stage. "And this is what we work toward," he said. "We'll see if it also works at Regionals. I'm always very happy when we do well. You never know what the judges will like, and Concorde is always the toughest district."
The competition pits comedies vs. dramas and large casts vs. small ones. So in the end, the winning play is the one striking a chord with the judges. "I tell the kids all I want is for them to do a better performance than the last time," said Monk. "If they do that, then it's a success."
Although Chantilly's show is a comedy, Calvert says Nick was the most serious role he's ever had, so it was the most challenging. "I'm playing a normal teen-ager who hates his family. So it's hard for me because — although my real family annoys me, at times — I don't feel that way about them."
He was pleased to receive good feedback from the judges about his performance. "They liked the relationship between my mom and a cute girl I meet at college and how my mom embarrasses me in front of her," said Calvert. "The judges said it felt real."
Thrilled that Chantilly's play captured the top spot at Districts, he said, "We worked really hard on it. We're a close group of friends, so it was cool to see us win first. I don't know how we'll do at Regionals. It's a whole, different playing field and a new set of judges, and we don't know what the other schools are doing. So we'll just go there and give it our best."
Although Westfield's entry, "Oleanna," a drama by playwright David Mamet, came in second at Districts, the school's Mitchell Buckley received the Best Actor award and Madeleine Bloxam was selected Best Actress. Senior Joey Biagini directed the show and was happy it did so well because Westfield, too, put a great deal of effort into its play.
"Since there are only two actors in the entire show — and they both got awards — it really validates what we did," said Biagini. "I'm optimistic about Regionals, but I know we're up against some really great competition. So I'm honored and humbled to be performing with these great schools."
"Oleanna" is about a college professor and a female student who accuses him of sexual harassment. The outcome of this case will affect whether he gets tenure. Bloxam plays Carol, the student.
"I know teachers have to worry about how their students see them, and I appreciate when teachers are friendly," she said. "But in the play, Carol sees an ulterior motive to everything her teacher does."
Excited to be advancing to Regionals, Bloxam said, "We've been working all year on this play, so to be able to move on in the process is great. I hope we get to go to States."
As the professor, Buckley found it interesting portraying "the relationships between the two characters, and the ambiguity — there are a lot of levels to it. Although it's a tough role because it's nothing I've experienced before."
He said it was an honor to come in second in Districts. "Our play was a lot different from the other pieces. They were lighthearted and this was a lot heavier. Regionals will be fun."