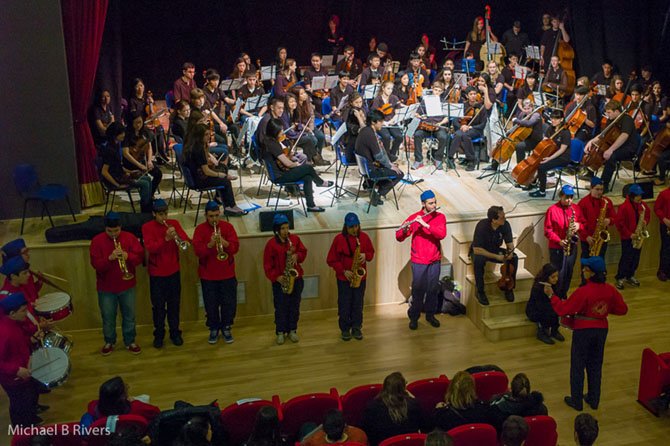 The Langley High School Orchestra performed two concerts during their recent trip to Rome, Italy. The trip was an opportunity for the orchestra students to share their music with Italian children and adults, and to experience the rich culture and history of Rome.
The first concert was in the quaint town of Velletri, population 2,000. Velletri has stunning views of the mountains and cobblestoned streets which led the students on an uphill walk to the theatre. The concert filled the 480-seat Teatro Artemisio, which re-opened last November after being closed for 25 years.
The concert was attended by the mayor of Velletri and the entire student population of Scuola Media Mariani, a middle school. Since it was an exchange concert, the Italian students sang and played for the Langley students, and then the Langley students performed several orchestral pieces. After playing "Ode to Joy" on their soprano recorders and band instruments, the Italian students were mesmerized by Langley's oboe soloist Christie Goddard, who was featured in "Gabriel's Oboe" from the motion picture, "The Mission." Other orchestral pieces performed included works by Italian composers Rossini, Morricone, Vivaldi, Respighi and Puccini.
Mayor Fausto Servadio of Velletri congratulated both the Mariani and Langley students for the beautiful performance. The concert concluded with each student body singing their respective national anthems. Following the concert, the Langley students were invited to visit the classrooms. The Langley students were asked dozens of questions in English, and were even asked for autographs. The Italian students marveled at the violins and violas, because they do not have string instrumental instruction in their curriculum.
The second concert was held in the town of Genzano. It was the opening concert of a music festival, and many local residents turned out to hear the evening program at the Palacesaroni. The concert was streamed live and was also recorded for an Italian radio program which was aired five days later. Patrizia Mancini, the council member responsible for education, sport, and culture for the town, thanked the orchestra for traveling to Genzano and sharing their music.
While in Italy, the orchestra toured Assisi, Perugia, the famous chocolate factory "Perugina," and Pompeii. Highlights of Rome included the Colosseum, the ancient ruins of the Roman Forum, the Pantheon, Piazza Navona, the Trevi Fountain, and the Spanish Steps. On their visit to Vatican City, the students saw Michelangelo's Sistine Chapel, the Pieta, many works of art and tapestry, and St. Peter's Basilica.
The orchestra students are grateful to the travel company, Gateway, the school administrators, local sponsors, and especially the orchestra families for making the Rome concerts and trip possible.