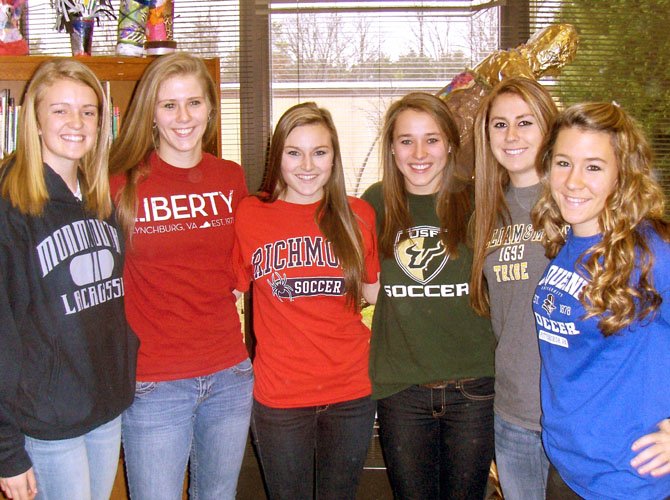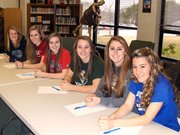 Centreville — Move over, boys. Six Centreville High student-athletes last week signed National Letters of Intent to play sports in NCAA Division I colleges — and all of them are girls.
They're lacrosse player Carly Sane, who'll attend Monmouth University in New Jersey, plus soccer players Haley Yow, Duquesne University in Pittsburgh; Clara Logsdon, College of William & Mary; Alex Myers, University of South Florida; Tori Collar, Liberty University, and Lindsay Egbers, University of Richmond.
They signed their letters last Wednesday, Feb. 6, accepting athletic scholarships to their chosen colleges. And the following morning, Centreville Director of Student Activities Jimmy Sanabria held a ceremony for them before their coaches, families, friends and classmates in the school library.
"As the DSA here for 10 years, I think this is the first time we've just had girls signing all at once," he said. "And it's really appropriate because most of the championships Centreville High's won have been won by girls' teams. Scholarships are very difficult to get. Colleges look for the very best person, all-around and academically, so we're proud to have all six of them."
Then, while wearing the T-shirts and sweatshirts of the colleges they'll be attending this fall, the girls listened while Sanabria told the audience a little bit about them.
CARLY SANE
"Carly started playing lacrosse in middle school and became a leader in the pogram," said Sanabria. "At Centreville, she was named JV team captain as a freshman. On the varsity as a sophomore, she was second on the team in scoring.
"Last year, we had the best lacrosse season in school history, and Carly made 44 goals and was first team, All Concorde District. She also plays for the Capital Lacrosse Club, an elite team, and still has this season to go at Centreville. She's fun to be around and has a positive attitude and the innate ability to make those around her better."
HALEY YOW
"Haley started playing travel soccer in second grade and was on the 1994, elite Olympic Development Program team for four years," said Sanabria. "She's competed in three, national championships with her club team and has been spectacular at Centreville. She was on the varsity team as a freshman and made All Region and All District honors.
"Her coaches say she's seemingly unassuming, but quick and tough to handle on the field. Girls soccer at Centreville is one of the best in the state, and Haley's been a scholar-athlete three times and is a member of the National Honor Society, Spanish Honor Society and Student Government."
TORI COLLAR
"Tori began playing soccer in first grade and started playing travel soccer in fourth grade," said Sanabria. "She also plays basketball and is currently part of a team probably having its best season in school history. She's been a goalkeeper on the varsity since her sophomore year and made All-District honors last year.
"It's not easy being a goalkeeper — and she's been injured — but it's hard to keep her off the field. Her coaches say she makes the big saves at the big moments and, for a goalie, that's everything. She's been a scholar-athlete her twice and is a member of the National Honor Society."
LINDSAY EGBERS
"Lindsay started playing soccer at age 4, and her first travel team was the SYA Power where she met her best friends, Haley, Alex and Clara," said Sanabria. "She's been on her club team, the VSA Heat, since she was 12, and she played on the National Championship-winning team in 2012. She's also one of the nicest kids we've had here.
"Lindsay's also played field hockey and run track. She's aggressive when she plays, and she plays hard for her teammates. She's competitive and consistent, always giving her best. She's made the varsity as a freshman, made All-District honors the past two years and was a scholar-athlete three times."
CLARA LOGSDON
"Clara's been playing soccer since second grade and played in Costa Rica with her regional team as a freshman," said Sanabria. "She's played on the same team with Haley and Alex since fifth grade and played on All-Stars with Tori in third grade. She's super-smart in the classroom and on the field, and that's huge for a coach. She understands what needs to be done and does it.
"Clara's played on the varsity since her freshman year and has been captain since her sophomore year. She was a scholar-athlete three times, made All-Region one year and All-District three years. And she's in the National Honor Society, Math Honor Society and Spanish Honor Society."
ALEX MYERS
"Alex started playing soccer at 3," said Sanabria. "She's played with the Olympic Development Program regional team four years and played on the U-14 national team — and you've got to beat out a lot of girls to do that. She also plays on a club team with Clara and Haley.
"On the varsity team since she was a freshman, she's been its captain since her sophomore year. She was named First Team All Met by the Washington Post, made All-State, All-Region and All-District three times and was District Player of the Year as a sophomore. Her coaches say she combines toughness with style and flair, and her teachers call her a phenomenal kid who works hard."