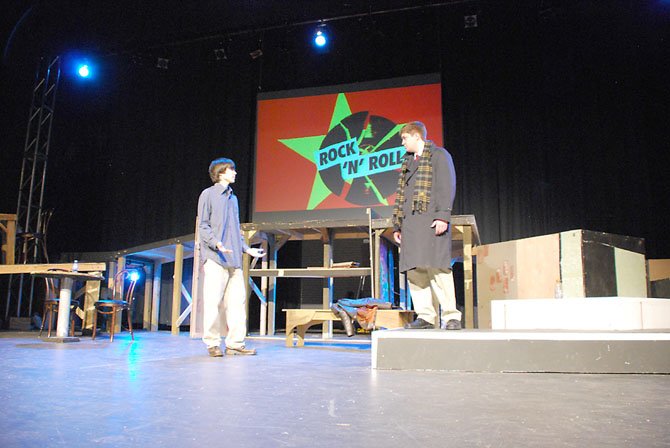 The South County High School senior thespians are rocking out ... to British playwright Sir Tom Stoppard. For the second year in a row, South County English teacher Dan Deiter is directing a cast and crew comprising exclusively fourth-year drama students. Last year the outgoing class put on Woody Allen's 1966 play "Don't Drink the Water." This weekend the curtain rises on Stoppard's historically grounded "Rock 'n' Roll."
A MUSICALLY ENHANCED PORTRAYAL of rock music's relationship with socialism in Czechoslovakia and the Soviet Union—the play's scenes span from Prague in spring of 1968 to the Velvet Revolution in 1989. Deiter thought the work was a good fit for the cast size and male-to-female ratio, in addition to being a challenging community-builder.
"It's an opportunity for them to have something that's just theirs, a send off," said Deiter. "And establishing it as an annual thing, it's something the underclassmen can look forward to."
Deiter himself is a guitarist as well as a stage manager for Washington, D.C.'s Keegan Theater, where his girlfriend Megan Thrift is a company member. She handed him the script for "Rock 'n' Roll" after the couple had been watching Samuel Beckett's political play "Catastrophe."
Czech reformer and playwright Václav Havel has a major influence in both works, and Deiter's interest in him caused Thrift to suggest Stoppard as an option for the senior production. The complex musical-political connection was an instant draw.
"Somehow Stoppard manages to combine so many different things in one world in a play," he said. "We have the political struggle—Czechoslovakia and the Soviet Union. We've got the lead character Jan's personal quest to save rock and roll and free the country from oppression, and he finds there's something else you've got to fight for too."
Jan, played by 18-year-old senior Alex Hargitt, is a doctoral student infatuated with Pink Floyd, Syd Barrett and Czech underground flagship group Plastic People of the Universe. He manages to escape his oppressive Czech homeland for the more free and enlightened climes of Cambridge, England, by convincing the government he is a proper communist scholar.
BUT AFTER A TRAGIC STRETCH of abandoning his Marxist mentor-professor Max (played by Matthew Yamamoto, 17), being imprisoned and seeing Prague become occupied with Soviet tanks, Jan returns home to rescue both his mother and socialism.
The audience will see Jan and the rest of the characters grow and change as the play progresses through several decades and locations. (Deiter has cleverly staged it as a live gig itself, with projections, rock concert lighting and Lou Reed's raspy cooing piped in to bridge Prague and Cambridge.)
Both actors and their characters explore the profound connections between the brain and the mind, in the context of war and revolution. And ultimately, "you learn you can't stew on your defeats," said Hargitt. "But you can't be stubborn; you have to be willing to listen to other people around you, to not be ignorant."
Eighteen-year-old Katie Murray plays Max's wife Eleanor in the first act, who embodies some of the play's key metaphysical philosophy. Dealing with terminal cancer, she's "trying to make the most of the time she has," said Murray. "She is strong, impatient and focused on the idea she is not what her body is—she's mind, soul, what she believes in."
According to Yamamoto, the dense script and emotional, subversive and complex subject matter were imposing, but not unwelcome, hills to climb. "In almost every line, you'll find something where you have no idea what you're saying," he said. "You have to research, figure out what you're saying and why you're saying it. I learned at least 16 new words by reading this script."
"It's definitely not like the other plays we've done," echoed Whitney Turner, 18. "It's no 'Beauty and the Beast'." In Act I, Turner plays young Esme, a prototypical flower child; in the second act she returns as Esme's daughter Alice, still rebellious and "tossed into this crazy family dynamic, just trying to keep the peace," she said.
To help unpack and emphasize the importance of the thicker moments in "Rock 'n' Roll," the actors strategically control their dialogue speed, according to Turner: "You really have to go slowly and take in every word. Every word contributes to the meaning."
ATTEMPTING TO SIMPLIFY the method of performance may be these young actors' greatest service to Stoppard's multi-layered, emotionally charged text. Though he presents an inextricable link between rock music's expressiveness and the sociopolitical upheaval of the time, there is still a need to value the art for what it is: simply beautiful art.
Hargitt recalled an agitated musician from the play being interviewed by a journalist: "Why don't you write about the album, not about how it's a symbol of the resistance? These people are about doing what they want."
And all these seniors want to do is rock.
The crew includes set design by Joe Carlton and Jon Alderson, light design by Robert Helvey and stage management by Robert Helvey and Stephen Henderson.