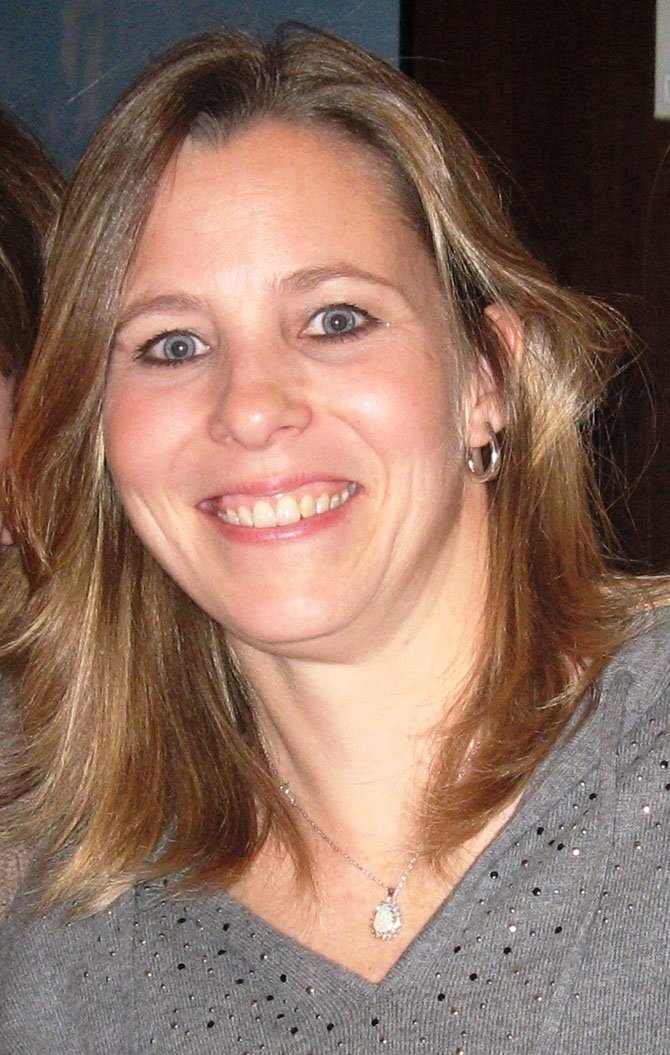 Centreville — Just 38, Centreville's Debbie Bendorf is a wife, a mother of three young boys and a person fighting the battle of her life against a rare form of cancer. She loves her family, is loyal to her friends and doesn't complain or ask for anything special for herself — which is why the community is trying to help her and her family.
Husband Pete Bendorf is an assistant principal and assistant football coach at Westfield High and helps coach an SYA basketball team of second-graders. Sons Jake, Zach and Nick are in fifth grade, second grade and kindergarten, respectively, at Cub Run Elementary. And last Saturday, Feb. 9, SYA families came together and held a basketball fundraiser for them.
SYA mom Fran Furr explained the details in a blog she posted publicizing the fundraiser. She and Debbie met as new SYA baseball moms in 2006, watching their sons at practices and games.

"We were just regular moms, wanting the best for our sons [and] dreaming of many more years of friendship between our boys and between ourselves," wrote Furr. "What I didn't know at the time was that it wasn't going to be our sons who were the superstars, she was."
"Even in the toughest of times, she battles through."

— Pete Bendorf, Debbie's husband
After Zach was born, Debbie chose to leave teaching and stay home and raise her boys while Pete taught school and coached football. While pregnant with her third child, her right shoulder began bothering her. In August 2007, two weeks after Nick was born, she was diagnosed with osteosarcoma (bone cancer). But she didn't let that stop her.
"With each new hurdle placed in front of her, she always kept a smile on her face and a fight in her heart," wrote Furr. "She continuously came to any sporting event with a great story about her boys and an infectious smile that lit up the gym, field or playground. [And] she's an amazing friend who can brighten your day, no matter your mood or situation."
BUT AS TIME progressed, so did her disease, and the chemotherapy and its side effects became more and more debilitating to Debbie's body. Now, five-and-a-half years later, she's made a heart-wrenching decision. On Jan. 31, with the support of her husband and family, she decided to stop chemotherapy and begin home-hospice care.
"And this is where life is very unfair," wrote Furr. "It's unfair that she's only 38 years old and struggling with what most people take for granted — walking upstairs, making a meal for her family or simply taking a breath on her own."
Still, said Pete, his wife is "pretty amazing. Most of us going through what she has would be very angry and upset. But she's worried about how we are, and that's helped her get through. She's had multiple, major surgeries, and the chemo and radiation did a lot of collateral damage. But even in the toughest of times, she battles through."
He said it's also been emotionally tough for her — "finding out you've got cancer while you have three, young children, going through all these debilitating treatments and then hearing the doctors say they've done all they can for you." But Debbie's handled it all with such grace that it's enabled her family to deal with it, too, said Pete, "because she never complains and sets such a good example for us."
"She's a great role model for our kids and a great mom and wife," he continued. "We're bitterly disappointed and frustrated, but she's stable right now and happy to be home with us. As hideous as cancer is, we're grateful for our family and friends and thankful for what we have."
And with an attitude like that, those who know the Bendorfs want to do all they can to help them.
"Debbie and Pete are good people, [but] cancer is evil and so are its financial effects on a family," said Furr. "They are an amazing family of five, supported by a public-school educator, living in Northern Virginia, going through a [tough] time, and we can only imagine their financial pressures."
So she and the SYA are hoping as many people as possible will open up their hearts and wallets and donate whatever they can "to assist their family with all the things we can't think of that they might need. We believe every dollar will help them support each other and provide a little breathing room as they go through this difficult time."

Donations may be made via PayPal at http://asimpleplea.blogspot.com/2013/02/a-simple-plea.html.
The Bendorfs, themselves, would never ask anyone for help, but they greatly appreciate the fundraising efforts. "In the end, it's not about what you did; it's about what you give, and Debbie lives by that creed," said Pete. "Every little bit helps, but what really helps are everyone's thoughts and prayers and the fact that our community's willing to come together to help other people. Debbie's a special person and we're just praying every day."