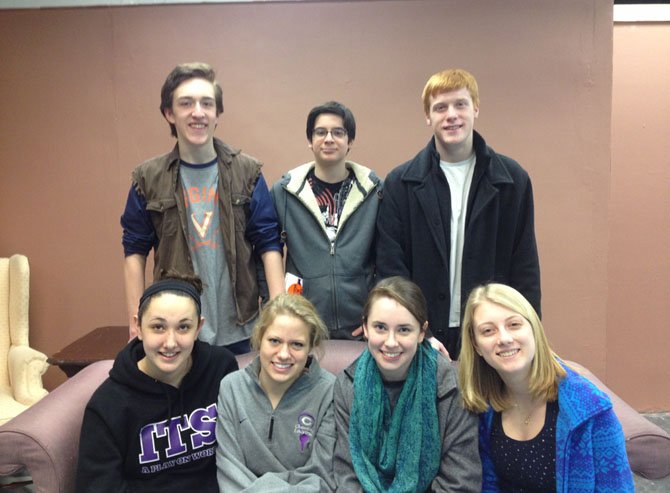 Chantilly — If it's a Neil Simon comedy, it's bound to be hilarious. And that's what Chantilly High's presenting this week in its production of Simon's "Brighton Beach Memoirs."
Show times are Thursday-Sunday, Feb. 21, 22, 23 and 24, at 7 p.m. each night, in the school's black box theater, room 106. Tickets are $5 online and at the door, but only 100 seats are available for each performance, so people are encouraged to purchase their tickets in advance at www.chantillyhsdrama.com.
The story is a semi-autobiographical look at Simon's youth, growing up in Brooklyn during the depression and on the eve of World War II. It's both a tender and funny tale of a Jewish-American family as seen through the eyes of a 15-year-old boy obsessed with baseball and girls.
Cast members are: Nicole Paladeau as Nora, Brooke Johnson as Blanche, Matt Calvert as Stanley, Katie McVicar as Kate, Chris Knarr as Jack, Samantha Jones as Laurie and Gonzalo Izquierdo as Eugene. Stage manager is Antonio Ribiero; set designers, Chloe Vasquez and Josh Lutz; and lighting, Drew Pardo.
In the lead role of Eugene Morris Jerome is junior Gonzalo Izquierdo. "Eugene's athletic and going through puberty; he loves sports and just started noticing girls," said Izquierdo. "His family's going through unemployment and hard times, and he has to rise above it, figure out his place in the family and evolve. He's thinking about his future and what he's going to do with the rest of his life, so it's a coming-of-age story."
Since Eugene's so different from himself, he said it's a challenging part, but he's enjoying it. "There are times when Eugene tells his thoughts directly to the audience, and it's really hilarious," said Izquierdo. "It's my first lead and it's a lot of lines, but I really like doing it."
He said the audience will love the show because "it's all about a family and things they can relate to. And since it's in the black box, the stage is in a smaller area, with the actors just 10 feet away from the front row. So the audience will really feel the emotion."
Directing this production is senior Greg Baker. "I realized it's a lot harder and more work than I thought it was, and it makes me appreciate more what directors do," he said. "But it's also a lot of fun because I get to help everyone act, it's nice to be in charge and I get to run things the way I want to."
The scenes take place in the Jerome family's dining/living room area and in one of the bedrooms. Baker said it was a challenge to fit the set into such a small space, but "I think our set designers did a really good job." He said the actors are also doing great.
"I'm impressed with how well the actors are handling the maturity of their characters and explaining who they are on stage," said Baker. "And I think the audience will appreciate the fantastic script; it's really funny, as well as moving and touching."