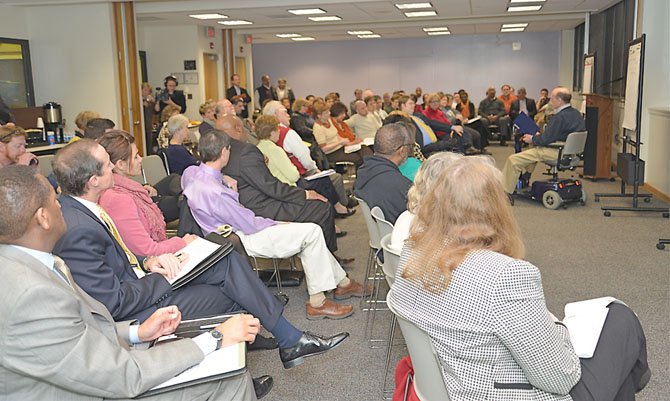 Reston Community Center invited the public to bring their wish lists to an open forum meeting on Monday, Feb. 11, to discuss the potential development of a new indoor recreation center at Baron Cameron Park. In 2012, the Fairfax County Board of Supervisors transferred 68 acres at the park to the Fairfax County Parks Authority, and Bill Bouie, who is both a member of the Reston Community Center Board of Governors, as well as the chairman of the parks authority Board told the assembly that the Reston Community Center is "an interested party" in the Fairfax County Parks Authority's Master Planning Process about to begin in March. "We are looking ahead to FY 2015's budget, and in partnership with the FCPA our hope would be to develop an indoor facility on the site," said Bouie, to a meeting room packed with individual residents, as well as plethora of local organizations, including the Reston Association, Reston Interfaith, Sustainable Reston, Reston Accessibility Committee, Osher Lifelong Learning Institute, the YMCA, Reston Runners and more. "Reston continues to grow and that growth means we need to respond and expand our recreational offerings."
RESTON COMMUNITY CENTER HAD REPRESENTATIVES from the planning and facility management firm Brailsford & Dunlavey on hand to facilitate the brainstorming portion of the agenda.
Brailsford & Dunlavey conducted a similar study for Browns Chapel Park on behalf of Reston Community Center and Reston Association.
Craig Levine, senior project manager with the firm, spent about 45 minutes taking suggestions and commentary.
Several attendees made pitches for additional venues for performing and cultural arts programs, whether at the Baron Cameron site or elsewhere, but the number one request was for a multi-use aquatic center to be the focal point of the potential new facility, featuring a 50 meter pool with "lots of lanes and a real diving well." Members and representatives from the Reston Master Swim Team, Reston Swim Team, South Lakes High School and other athletic associations took turns describing the inadequacies of the current aquatic facilities in the Reston: "You just can't get in half the time;" "There are 15 outdoor pools in Reston and only one indoors — you can't count on swimming or training locally except in the summer;" "The South Lakes divers have to practice at 8:30 at night in Herndon — they feel like they aren't even part of the swim team," were some of the comments.
Several members of the audience invoked the name of the Reston-founder, Robert E. Simon. "If we are going to do this, let's think big like Bob did. Especially with the arrival of the MetroRail, let's think about making Reston a destination stop. What about a facility that will host regional events — or even Olympic trials?"
Non-competitive swimmers also had their say. Some referenced the pool at Ida Lee Park in Leesburg for better conditions for therapeutic and rehabilitative aquatic programs in warm water. "Let's face it," said one resident who used aqua-therapy for rehab purposes, "the athletes are looking for the cooler water, while those who need the pool for other heath reasons need the water warmer. We need someplace that can accommodate everyone, especially as the population of Reston ages."
OTHER REQUESTS were made for more adaptable classroom space, indoor running tracks, and adequate parking to complement all Reston Community Center facilities.
Reston Community Center Executive Director Leila Gordon closed the meeting by reminding everyone that this was just the first in a series of public feedback sessions that will be taking place. Another meeting is tentatively scheduled for Feb. 25, but all interested parties are encouraged to check the Reston Community Center website at www.restoncommunitycenter.com for up-to-date information and to provide feedback on this and any other related issue.