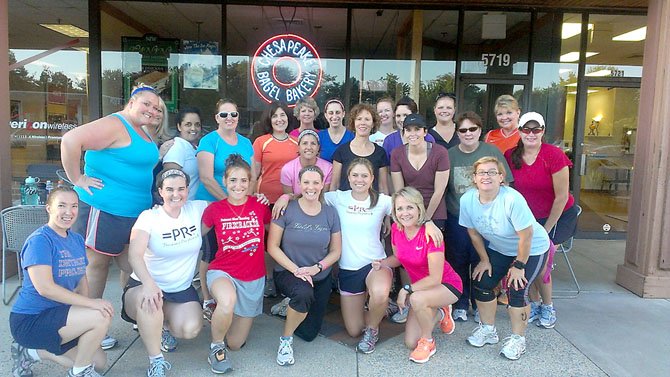 When contemplating Disney princesses, one immediately thinks of fairy godmothers and pumpkin carriages, flying carpets and pet tigers, flaming red hair and fishtails. Inner strength is a characteristic these women share—one of which we are quick to remind young girls—and so is rescue-ability. But for 16 local female runners who have been training since last fall to complete a half marathon, the Disney Princess is all about being their own hero.
Led by coach Kelly Kavanaugh of Fairfax Station, 15 other members of the Potomac River Running training group in Burke will take part in the Feb. 24 Disney's Princess Half Marathon and Royal Family 5K in Orlando, Fla. For most of Kavanaugh's team, it will be their longest run ever. They must also brave sleep deprivation: a 5:34 a.m. start time means athletes won't get in the way of typically dense park traffic. It's hard work being a princess.
Just don't complain to coach Kavanaugh, who's living happily ever after despite a Cinderella-pre-glass slipper work regimen.
IN ADDITION to rounding out coursework for a degree in English from George Mason University, blogging, drafting a pair of manuscripts and helping coach the Centreville High School girls cross country team, Kavanaugh is the lead instructor for several running classes based out of the Burke location of the Potomac River Running store. She initially took over a beginning class of six runners in August of 2011. By the winter, she had added an advanced class and winter conditioning program.
Now, her eight-week Running 101 program (which resumes in the spring and has several sessions throughout the year) has ballooned to roughly 40 members and is one of the biggest of all the store's eight locations throughout Virginia and Maryland. Her more competitive 201 has a membership of 10 to 15. "Everybody that comes stays," Kavanaugh said. "We just keep getting bigger."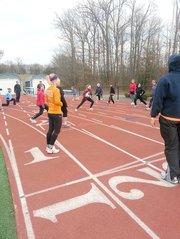 Kavanaugh graduated from Robinson Secondary School in 2009, where she was a record-setting track and field athlete. She accepted a scholarship to join the track team at Virginia Tech, but transferred after her sophomore year. Drawing from her extensive and successful running experience, the young coach develops training groups that are strong not only physically, but also emotionally and communally.
"People are terrified of a group setting," said Kavanaugh, "but everybody is in the same boat. When you need motivation and inspiration, a class is better than even personal training. At gyms you're alone in an army of people—you're surrounded, but you're not really surrounded. [Here] you're creating relationships."
Relationships are a primary reason for the exponential growth in Kavanaugh's class size, and the social, supportive, fun atmosphere she fosters accounts for how the 101 class took it upon themselves to sign up for the half marathon in Orlando. "Last fall, they decided it was an awesome goal," she said.
At that point, a majority of the group maxed out at just one or two miles. In September, they were up to five miles. By now they've doubled that distance.
"I feel like I'm more prepared for this than I have been for other half-marathons," said Sarah Lane, a Centreville resident and Prince William County Bureau manager for the Washington Post. Lane began training for marathons in 2000 despite having no prior running experience. She ran off and on for the next decade before a friend convinced her to try Kavanaugh's group, where she "started over." "Now I'm at the point—for the first time—I go out running and I really love it," she said.
Though Lane admitted to running independently outside of class, that's not always the case. "I would never do it without the group," said Fairfax Station resident and small business CFO Laura Weeks. "It motivates you to show up. I can always run more, further, faster with at least one other person."
Regardless of their skill level or prior experience, Kavanaugh is more focused on her runners' effort and dedication to the process. "I care just as much about the six-minute runner as the 15-minute walker," she said. "I let them know that. I have no favorites."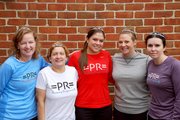 HER GENUINE ATTENTION that toes the line between drill sergeant and cheerleader isn't only felt by members of the class, but has spawned a culture of runners that hold themselves accountable. "It's a team full of coaches," said Rosie Bombaugh, a Fairfax County Park Authority administrator from Burke. "We all started to get better because we pushed each other. You go to your comfort level and you don't surpass it. You need people to make you a runner—these people are part of who I am now."
"The group is motivating, supportive, not just people competing," said Michele Dobiecki, a real estate firm administrator from Woodbridge. "Even when you're in the worst mood and don't feel like running, there's someone there who will hold you accountable for doing the best that you can. Sometimes you get your best workout when you almost didn't even come."
And even though not everyone is on board with the matching tiaras and tutus members have purchased for the entire contingent to wear in Florida, Kavanaugh will be there to give them the healthy push they need.
For more information about Potomac River Running stores and training, visit www.potomacriverrunning.com or the Burke location Facebook page at Potomac River Running Burke.