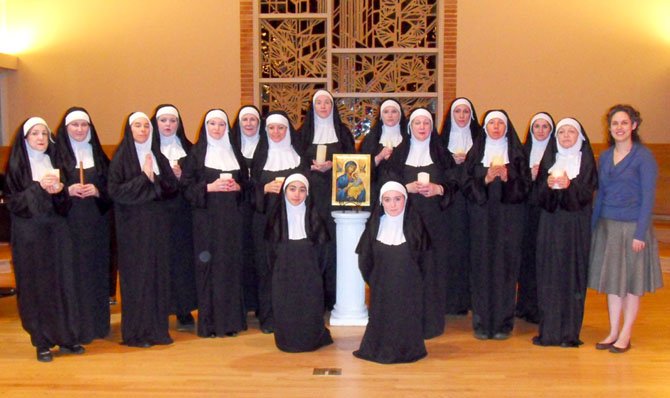 "The music of opera takes me to beautiful places in my imagination, with swirling passions and languid times of reflection," said John Turner (McLean) in describing his love for the art form. He is one of the artistic forces behind Fairfax County's own Riverbend Opera Company.

With its 2013 season, Riverbend will have a double-bill of one-act works by Giacomo Puccini. Puccini's operas are some of the most performed such as "La Bohème," "Madame Butterfly" and "Tosca."
Each of the one-acts, "Il tabarro" and "Suor Angelica" has "almost achingly beautiful music" said Turner.
"Suor Angelica" is set in a convent centuries ago. One of the nuns has a complicated life, "faces a horrible moral and mortal dilemma. Puccini's musical treatment of the principal characters takes the audience on a vivid journey from the depths of depression to the angelic choirs of heaven," Turner observed.
Where and When
Four Performances in March, 2013. Tickets: $15-$25. For tickets and information: Info@RiverbendOpe... or 703-869-3637. Note: Sung in Italian with English subtitles projected.
Performances: Providence Presbyterian Church, 9091 Little River Turnpike, Fairfax. March 8, 7:30 p.m.; Opera at Lake Barcroft, Falls Church, March 10, 2:30 p.m. Note: limited seating availability; Holy Rosary Church, 595 Third St. N.W., Washington, D.C., March 16, 7:30 p.m., and St. Augustine's Church, 600 M St. S.W., Washington, D.C., March 19, 7:30 p.m.
Il tabarro is set on a barge on the Seine in Paris. A husband notices that his wife is not as fervent as she once was. The wife is torn between her husband Luigi and a new man in her life, as well as experiencing sadness from the loss of her son. In the climactic scene, the husband's quick-temper, his tabarro (cloak) and the music all have critical roles.
The "Suor Angelica" principals include soprano Linda Kiemel, who performs regularly as an oratorio soloist and is a member of the Washington National Opera chorus. Mezzo Viktoriya Bright is currently appearing as soloist with the Cathedral Choral Society at the National Cathedral.
In "Il tabarro" there are two tenors alternating in the lead role. Kevin Courtemanche is a member of the chorus of the New York Metropolitan Opera, currently appearing in the production of "Parsifal." Paul McIlvaine has extensive experience as a leading opera tenor.

Soprano leads are Melissa Jean Chávez and Molly Pinson Simoneau. Chávez will be performing with the prestigious Castleton Festival. Simoneau is making her debut in a leading role with this production having performed in opera productions for several years.
With semi-staging the "audience is close to the singers. There is no pit, no stage, no microphones. It makes opera so accessible," said Riverbend Music Director Molly A. Khatcheressian, who is the choral director at Thomas Jefferson High School.
These Puccini one-acts are "a compact performing art form like a compelling short story with music that is thrilling," added Khatchressian.
More like this story