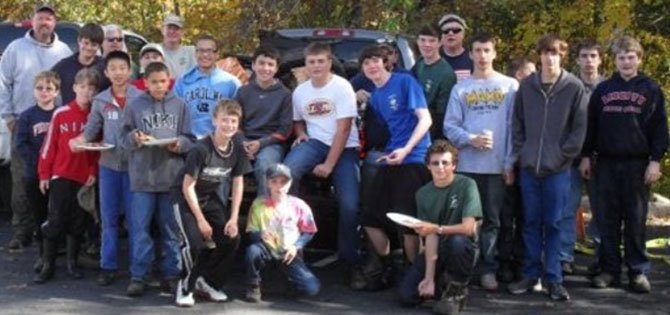 Little Rocky Run Boy Scout Kevin Bishop chose as his Eagle Scout project a cleanup of the wetlands directly beside Bent Tree Apartments. This portion of the Little Rocky Run watershed had never been cleaned and was selected for cleanup by Friends of Little Rocky Run's Ned Foster. In fact, it was so over-grown that few humans had even been in it, much less cleaned it. The area is a morass of brambles, vines, mud and decades of trash.
Kevin and 36 volunteers from Little Rocky Run Troop 577 picked up trash that weighed 2,370 lbs. Included was enough trash to fill 54 VDOT orange bags, along with 11 tires, two couches, miscellaneous metal, furniture, plywood, counter tops, and a gallon of antifreeze. All of this was taken to the West Ox Road landfill.

The 36 volunteers from Little Rocky Run included: Lucas deVos, Lee deVos, Michael Bishop, Chris Marty, Brendon Carnell, Tom Carnell, Tim Kim, Drew Boland, Greyson Horn, Mike Horn, Mike McLenigan, Carl Mears, Ben Martin, Marcello Coronado, Joe Bishop, Chris Washington, Ryan Washington, Daryl Washington, Alex Aguilera, Stephen Pucci, Michael Schneider, Thomas Maradaz, Ned Foster, Matt Candy, Teri Bishop, Spencer Horn, Neil Dolan, Daniel Clements, Thomas Clements, Nick Aguilera, Jameson Crouse, Edward Sun, Tamara Crouse, Patrick Muradaz, Jacob Peterson and Kevin Bishop.
The Navy Federal Credit Union provided the grant money that paid for the disposal fees, which for this project totaled $63.