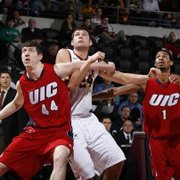 Vienna resident Will Simonton, a class of 2010 graduate of Marshall High School, was featured in the Chicago Sun-Times on Saturday, Dec. 8 for his performance with the University of Illinois at Chicago Flames in their 64-55 victory over Colorado State.
Simonton was praised for the intensity with which he played only 22 minutes of the game, scoring six points and getting three rebounds.
Read about Simonton's success at http://www.suntimes.com/sports/colleges/16895595-419/will-simonton-lifts-flamesjolts-rams.html.