Transportation, guns in schools and Medicaid were among the top issues discussed last week at a town hall meeting in Chantilly. Prior to the Jan. 9 start of the Virginia General Assembly session, Del. Jim LeMunyon (R-67th) and Sen. Chap Petersen (D-34th) met with some 65 constituents.
They shared some Northern Virginia and statewide priorities, talked about the budget and got an earful from residents about issues important to them.
They said Northern Virginia priorities in this 45-day session are transportation construction and maintenance funding, Dulles Rail Phase Two, more in-state students at public colleges and universities, and WMATA cost control.
STATEWIDE ISSUES also include transportation funding, plus school safety, teacher pay and evaluations, possibly lifting the ban on uranium mining in Virginia and Medicaid expansion.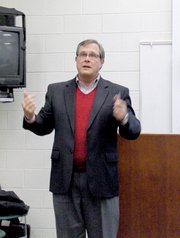 "Medicaid expansion will be a huge issue that we'll tackle this year," said Petersen, who now also represents part of Chantilly and Centreville, besides Fairfax. "Under the new, federal healthcare law, we're able to expand it and have the feds pick up the cost—about $2.2 billion per year."
However, LeMunyon said transportation will be the big issue. "The governor wants us to have $500 million in new transportation money by fiscal year 2018," he said. "And Phase One of Dulles Rail to Reston should finish this fall."
He said residents have contacted him regarding the difficulty of "getting some of our best high-school seniors into our best state schools. So I'm going to require those schools to charge the out-of-state students fair-market-value tuition to make room for more in-state students."
Regarding teacher pay and evaluations, LeMunyon said Gov. McDonnell proposes applying Fairfax and Loudoun counties' teacher-evaluation system to the rest of the state. Teachers in those counties receive formal evaluations every three years and informal ones in between, to weed out teachers not doing their jobs well.
LeMunyon said, "The governor said he's got $50 million to $60 million in the budget to offer the top teachers a 2 percent pay increase."
He also noted that McDonnell wants to convene a task force on school and campus safety "to ask if we're doing enough in Virginia to keep kids safe in school." It will include teachers, administrators, mental health professionals and the secretaries of education and public safety.
AS FOR TRANSPORTATION, LeMunyon said Virginia takes money every year—to the tune of $500 million—from its transportation-construction budget to fund transportation maintenance. "The 17.5 cents/gallon gas tax funds it," he said. "But with more fuel-efficient cars, there's less gas tax revenue, so we need another way to pay for road maintenance."
Besides that, said Petersen, "The gas tax has lost value due to inflation, so we have less money to work with. So we need to index the gas tax to keep up with inflation. To me, that's the best solution—or we need a new source of revenue. I also believe the tax rate should be uniform in all parts of the state."
He said the CTB (Commonwealth Transportation Board) actually allocates the Transportation Trust Fund money and "Northern Virginia and Hampton Roads have been chronically underrepresented on that board. But we now have the population to change its composition." Consequently, added LeMunyon, Del. Tom Rust (R-86th) "will carry that bill again in the House this year."
Regarding McDonnell's proposal to take money from Virginia's general fund for transportation, Petersen said he's opposed because general fund money needs to be used for higher education, social services and public safety.
LeMunyon said, "We should look at how much the general fund will grow to see if we have any extra money [that could go toward transportation]." But Petersen said the Senate wouldn't approve it.
A woman asked about the possibility of Fairfax County maintaining its own roads, but LeMunyon said it's a big responsibility and "the state still has to cut the check."
Switching gears, Centreville's Jerry Foltz said, "Some residents are excelling in high school, but their parents are undocumented. So they can't go to college and we're missing their benefits to our society."
"Children here against their will are in a different category," replied Petersen. "I see the nuances of the issue and I think we'll see some elements of the Dream Act. If people are here for a period of years, have paid taxes or served in the military, I might be in favor of it."
Noting the U.S. Government's inaction on this matter, LeMunyon said, "The federal government ought to really do its job and decide this and set the policy. Then states could act on that."
"According to federal law, we have to educate every child in Fairfax County," added Petersen. "But according to state law, [undocumented youth] can't get a Virginia license or attend a Virginia university, so they can't participate fully as citizens."
A woman interested in Medicaid expansion asked if there could be "a way to make it more serviceable? For example, I can't get an orthopedic doctor or ENT to serve me in Fairfax County. We want people on Medicaid to be able to get the services they need so they can go back out and contribute to society."
But LeMunyon said it would be difficult because "the state's 50-percent match of Medicaid today is the fastest-growing part of the budget."
A male surgeon in the county also spoke up. "Doctors can't take Medicaid patients, too, and pay all their other costs—staff, rent, malpractice insurance, etc.—and keep their doors open," he said. "So there are a lot of other pieces of the pie that have to be addressed first."
On another matter, Molly Maddra of Centre Ridge said, "There are a lot of homeless and unemployed people in Centreville and not enough mass transit for them."
In response, Petersen said, "We want a bus rapid transit line along the I-66 Corridor for people living west of the Vienna Metro, and we're already zeroed in on this."
LeMunyon may be reached at deljlemunyon@house.virginia.gov. Petersen is at district34@senate.virginia.gov.