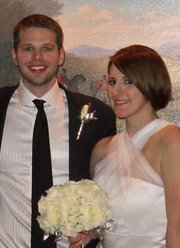 Vienna — Miranda Nicole See and Davis Earle Ford exchanged vows and held their reception with dinner on Friday, Dec. 21 at The Tower Club in Vienna.
Samantha Atwell, the bride's sister, served as the maid of honor and Luke Griffin, the groom's cousin, served as the best man. The bride is the granddaughter of Deloris See of Centreville. The groom is the son of Carol and David Ford of Fairfax Station.
Miranda is currently stationed at Fort Leonard Wood, Mo. Davis is finishing his undergraduate degree and will join his bride at her next duty station. The couple will reside wherever the Army sends them.