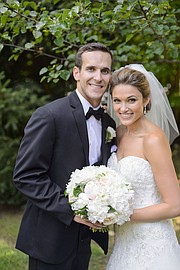 Meredith Klein and Drew Dudzik were married on June 20, 2015 at St. John Neumann in Reston. The bride is a 2007 graduate of Chantilly High School and a 2011 undergraduate of James Madison University. She completed her Master's in Education at James Madison University in 2012 and taught first grade for the past three years at Oak Hill Elementary. The groom is a 2006 graduate of Centreville High School and a 2010 undergraduate of James Madison University. He completed a Masters in Sports Leadership there the following year.
The bride is the daughter of Bruce and Doreen Klein of Oak Hill. The groom is the son of Michael and Sally Dudzik. Cousin of the bride, Kerrin O'Connor, served as the Maid of Honor. Bridesmaids were Kristen Klein, sister-in-law of the bride, Katie Dudzik, sister of the groom, Anna Brunswick, Stephanie Passino, Kimberly Resua, Jessica Fuller, Allison Butler, Chelsea Goff, and Shelley Newman. Matt Goff, served as Best Man. Groomsmen were Jason Klein, brother of the bride, Steven Klein, brother of the bride, Bill Nay, Dave Hill, Jason Dosh, DJ Mangus, Cameron Dohse, Aaron Butler, and Charlie Newman.
Following the wedding ceremony, a reception with dinner and dancing was held at The Ritz Carlton in Tysons Corner.
The couple honeymooned in St. Lucia and are now residing in Raleigh, N.C. The bride is employed as a marketing specialist with Lionsbridge Technologies and the groom is employed as an assistant offensive coordinator with the Duke University Football Program.