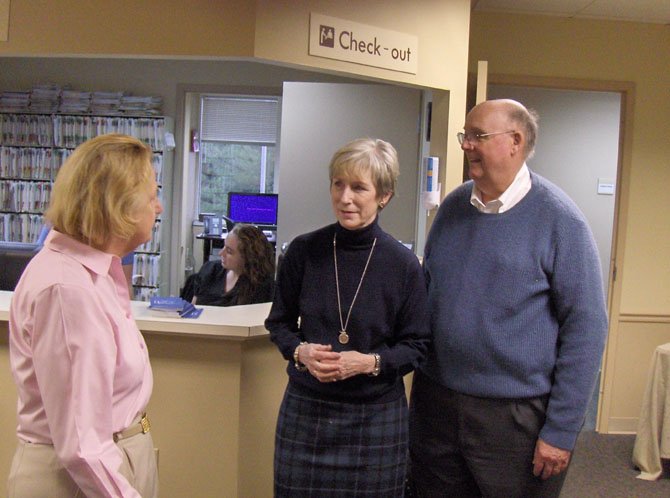 Centreville — Richard Bowles always knew he'd someday be a doctor.
"My dad was a doctor and I used to ride on calls with him," he said. "I think he had a big influence on me. I was around medicine all my life and I looked up to him, so there was never any question about what I wanted to do."
A newly retired family practitioner, he's seen patients in Centreville for almost four decades and was pleased that so many of them came to his office recently to thank him for his services and wish him well in the next chapter of his life.
"It was sweet of everybody," said Bowles, 68, of Oakton. "I was humbled; it was very gratifying. I had a wonderful relationship with my patients and staff."
A 1970 graduate of UVA's medical school, he joined another doctor's practice in 1975 in the Newgate Shopping Center. That doctor left in 1984 and Dr. Janice Keyes joined Bowles in 1988. A year later, they moved to the practice's current location in the Old Centreville Crossing Shopping Center.
He chose family practice because "I like the personal contact and getting to know families as a whole. That makes you able to respond and react more appropriately when you look at the whole person."
When asked about any particularly memorable cases, Bowles replied, "When I was with a patient, that person was the most important case. They were all very meaningful to me. They were all special people — extraordinarily nice, kind and understanding. I truly believe we had the best patients of any practice."
Even if someone called near closing time, he'd try to work that person into his busy schedule. "Sometimes, other patients had to wait because of it," he said. "But they understood and, sometimes, they were the patients that kept others waiting."
And, yes, Bowles even made house calls. "Nowadays, you can do procedures in an office that you can't do at home, so office visits are generally better," he said. "But I still made house calls, when necessary, right up to the end."
He and Barby, his wife of 43 years, have three grown daughters and five grandchildren — four girls and a boy. And now that Bowles has retired, they're looking forward to being able to spend more time with them.
"I was blessed to have a family who would support my hours," he said. "There was no medical talk at home; so when I was there, I could concentrate on my family."
Bowles said getting to know his patients as people was the most rewarding part of his career. "When someone was ill, I wanted to help them," he said. "My staff and I were a family and cared for each other, too, and we all cared about our patients."
He said his interaction with the staff and patients is what he'll miss the most. But, he added, "I'm 68, and it just seemed like it was a good time to retire."
Looking back at his many years as a family practitioner, Bowles said, "It's a wonderful occupation. And I was very blessed to be in Centreville and have the staff and patients that I did. But I also enjoy being home with the family." During the recent holidays, he said, "I think it was the first time in 40 years I had both Christmas and New Year's off."