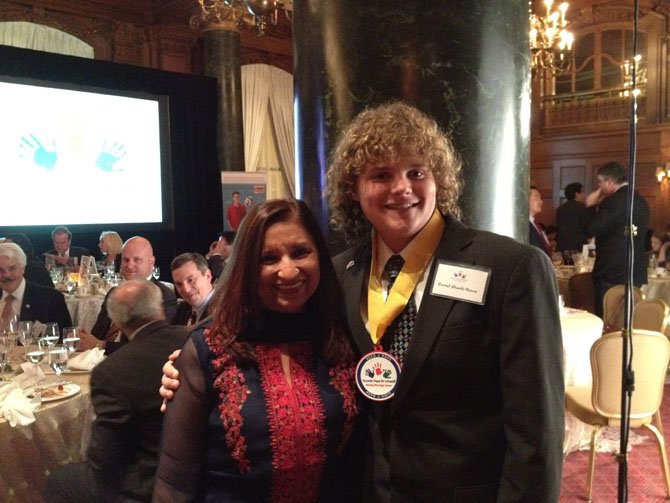 Centreville — When Centreville's Daniel Shank-Rowe was 9, he was diagnosed with leukemia. But he was successfully treated at Georgetown University Hospital in Washington, D.C., and is now in remission.
Instead of going on with his busy teenage life — without as much as a glance back at the doctor and hospital that helped him — the Westfield High freshman does fundraising for their annual Georgetown Jingle.
The event raises money for the pediatric oncology programs directed by Dr. Aziza Shad at Georgetown's Lombardi Comprehensive Cancer Center. Shad was Daniel's doctor and, since 2006, the Jingle has raised more than $1.5 million for the hospital's pediatric oncology programs.
This year's event is Dec. 16 and Daniel's selling raffle tickets for a chance to win a Toyota Prius c. And he's hoping people in the local community will buy some from him. Tickets are $50 and the winner doesn't have to be present to win. Just make checks payable to "Georgetown Jingle" and mail to 5308 Cat Tail Court, Centreville, VA 20120, and the tickets will be mailed back.
So why does he do it? Because Shad and the hospital saved his life.
"When I was 9 years old, my arm was hurting so bad that I woke my mom and dad to take me to the ER," said Daniel. "I was told by a doctor at 3 in the morning that I had leukemia, or blood cancer."
"The only word that I really heard out of that sentence was 'cancer' and, as a 9-year-old, all I knew about cancer is that it kills a lot of people," he continued. "So my first thought was, 'I'm going to die?' Before I knew it, I was lying in a hospital bed being pricked and prodded by various nurses and asked lots of questions by doctors."
Over time, however, Daniel got to know all the staff there and learned that his cancer was treatable. Indeed, after enduring 26 months of shots, medical procedures, and check-ups, he was officially declared to be in remission.
In addition, he'd made some wonderful friends at the hospital. During his time there, he said, the nurses were in good moods and would always brighten his spirits.
"The doctors wouldn't just ask if I was feeling any pain," said Daniel. "They also would ask, 'How are your friends?' or 'How's life?' They actually wanted to get to know me. Instead of just making sure that I was medically OK, they made it their priority to find out if I was emotionally OK — and that's what makes Georgetown so special. Dr. Shad teaches everyone at the clinic how to make kids not feel scared and at least enjoy the time they have to stay there while they get treatment."
When Daniel wasn't in the hospital getting chemotherapy, he'd spend every Wednesday in the clinic all day. He actually looked forward to going because he had a good time with the art therapists there or playing video games.
"At Georgetown, I could see that their mission is to heal the entire person and their family, not just the part they're paid to heal," he explained. "I'm a cancer survivor, and I'm now asking people to give whatever they can to the Georgetown Jingle so Dr. Shad and her team can keep doing the amazing job they do — and to help kids who are still going through what I've already done."
"Any amount given will help Dr. Shad understand and treat the late effects of cancer so other survivors like me can really live their lives," continued Daniel, now 15. Contributions will also benefit the pediatric bone-marrow transplant program and the pediatric palliative-care program.
"I hope a lot of people will donate," he added. "It's one of the best ways to spend their money. I promise."
Daniel finished treatment in 2009 and, according to his mother, Donna Shank of Sully Station, he's doing great. "We'll forever be indebted to Georgetown and Dr. Shad," she said. "January will be four years in remission."
Shank said her son has sold 32 raffle tickets so far, but hopes to sell 100. "Only 2,000 total will be sold, so people's chances of winning the Prius are pretty good," she said. "And at the same time, it helps the children Georgetown takes care of."
Now, Daniel has a full and busy life. He plays percussion in Westfield's marching band and is looking forward to performing with the band in the Tournament of Roses Parade on New Year's Day in Pasadena, Calif. Out of hundreds of bands nationwide that applied, Westfield was one of only 10 bands chosen.
"And he just started winter conditioning for crew," added his mom. "It's the first time he's gone out for crew, which is a big milestone for him physically."
But at the moment, he's focusing on selling the raffle tickets. Basically, said Shank, "Daniel does it because he realizes what great care he had at Georgetown. He also misses the friends he had there who've passed and wants to keep their memory alive and help the hospital provide care for every kid who needs it."
Reflecting back to that terrible moment when Daniel was diagnosed, she said, "You never think it's going to happen to you. But it gave me a great perspective and appreciation of life and how precious it is, and that you shouldn't take anything for granted."