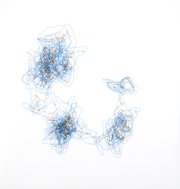 George Mason University's School of Art is presenting "Draw(n) Out," an exhibition featuring works by nationally recognized artists from across the United States, including a selection of artists represented by galleryELL in Brooklyn, N.Y. The exhibition will be on display in the Fine Art Gallery in the Art and Design Building on Mason's Fairfax Campus from Jan. 22 through Feb. 15.
Opening Reception will be held on Thursday, Jan. 24, from 6-8 p.m.
According to Kariann Fuqua and Nancy Hubbard, who organized the exhibition and whose work will be on display, "'Draw(n) Out' examines the work of artists who utilize drawing to explore physical manifestations and psychological perceptions of time. Notions of time—temporality, permanence, progression, flux—only add to the complexity of its definition, providing a rich framework from which artists can investigate new meaning. The exhibition will focus on pushing the boundaries of the institutional definition of drawing, whether through the integration of mark-making with sometimes unusual materials or through a different conceptual approach to the medium, while simultaneously exploring themes of process, evolution, decay and change."
Artists include: Barb Bondy, associate professor of art, Auburn University, Auburn, Ala.; Matthew Choberka, associate professor of art and chair, Weber State University, Ogden, Utah; Kariann Fuqua, curator, George Mason University, Fairfax; Jodi Hays, artist, Nashville, Tenn.; Nancy Hubbard, artist, Brooklyn, N.Y.; Deanna Lee, artist, Brooklyn, N.Y.; Tim McDonald, associate professor of art, Framingham State University, Framingham, Mass.; Kirsten Nash, artist, New York; and John Ros, artist, Brooklyn, N.Y.