Rheinhardt Harrison, running for the Fairfax Police Youth Club (FPYC), won the sub-bantam boys 8&U division at the USATF National Junior Olympics Cross Country Championships held in Albuquerque, N.M., on Saturday, Dec. 8.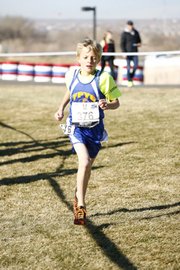 Running against 140-plus national qualifiers, he covered the 2K course in a time of 7:30.37 setting a new course and event record. Since his 7:30 time (6:02 mile pace) was run at 5,300 foot elevation, a comparable 2K time at lower elevation would have been around 7:10 (5:46 mile pace).
Rheinhardt was among 12 national champions (ages 8-18) crowned at the USATF National Junior Olympic Cross Country Championships on Saturday as more than 2,300 of the best youth athletes in the United States competed. Rheinhardt was also the only runner from USATF Region III (Georgia, North Carolina, Potomac Valley-DC, MD, Northern VA, South Carolina, and Virginia) to return home with a National Title.
He has now won the gold medal for a second week in a row. One week earlier, during the Cross Country Coaches National Youth Championships at the LaVern Gibson Championship Cross Country Course/Terre Haute, Ind., Rheinhardt led the field of 100-plus in the sub-bantam boy's race from start to finish, completing the 2K in 7:35.80.
In winning the USATF National Junior Olympics Cross Country Championship, Rheinhardt finished the 2012 track and cross-country seasons with five National Champion titles; six All American honors; and he set three National Event records.