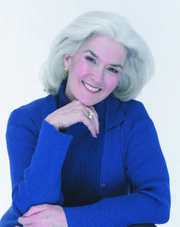 The high priestess of household hints will share her domestic wisdom this weekend at the 2013 Home and Remodeling Show at the Dulles Expo Center in Chantilly, Va.
A nationally syndicated columnist, Heloise is one of the presenters scheduled to headline this weekend's show. "I am going to share real life experiences to help prevent stress and angst and save as much money as possible," she said.
Home and Remodeling Show
at Dulles Expo Center, 4320 Chantilly Shopping Center, Chantilly.
Friday, Jan. 18: 10 a.m.-9 p.m.; Saturday, Jan. 19: 10 a.m.-9 p.m.; Sunday, Jan. 20: 10 a.m.-6 p.m. Admission is $10 for adults ($7 online), $3 for children ages 6-12 and free for children 5 and under. Visit www.homeandremode... to find out more.
Heloise will teach homeowners how to decide when it is time to call in a professional contractor to complete a home improvement project: "Do not watch one of those do-it-yourself, half-hour shows and think you can do the project yourself in a half hour," she warned. "For a home improvement project, whether it is simple or large, ask yourself honestly: 'Do you have the skills to do this? Do you have the tools to do this?'"
Just as any contractor or builder would, sit down and list every tool you need, she advised: "List all the project items that are needed and add it up," she continued. "Think about your time: If you think it will take five hours, trust me, it will take longer. You might find that it is cheaper and less stressful to have a professional come in and do it."
"I am also going to be giving Heloise hints," she continued, "including five essentials every household should have. They are cheap, safe and environmentally friendly, and will prevent and take care of problems."