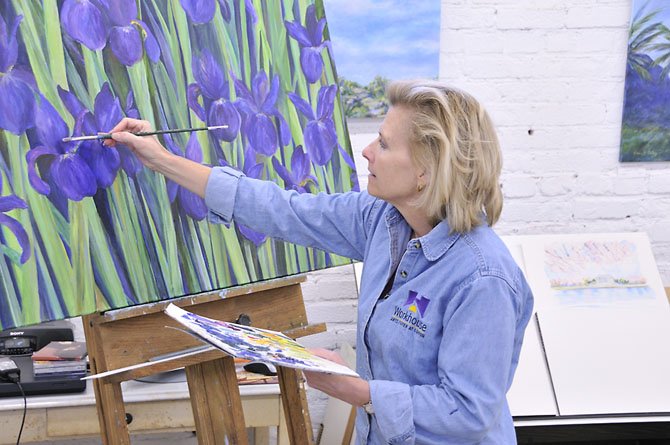 Prisoners—drunks, petty thieves, assaulters, even suffragettes—quite literally laid the foundation for the Workhouse Arts Center at Lorton. Part of a revolutionary self-sustaining rehabilitation program, these men and women did everything down to firing the bricks for the 1920s construction of the Colonial Revival structures still standing today that house over 70 diverse local artists' studios and galleries, and play host to hundreds of events, workshops, festivals, cabarets and lectures for the community.
Make no mistake about it: the Workhouse of today is just the latest transformation of historic property that has seen plenty of ups and downs over the last century.
"It was pretty embarrassing to have to drive by the prison," said current Clifton resident Pam Shepherd Jones. "When I would have to tell people how to get to my house in Barrington, I'd try to avoid it, but usually had to say, 'Go by the prison, then our house is further down the road.' It was an eyesore, and they turned it into something lovely."
Photo Gallery
Workhouse Arts Center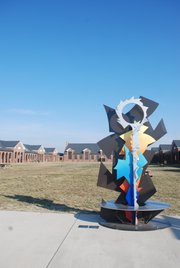 Click Photo for Flash
GOING BACK TO THE WORKHOUSE'S ROOTS at the turn of the century, the District of Columbia's jail was horrifically filthy and inundated with criminals. Together, President Theodore Roosevelt and Progressive Era reformers conceived of a new penal model in 1908, whereby prisoners would both labor to run the very facility they were sentenced to serve in and gain trade skills in a positive, outdoor environment. The idea was they could then be reintroduced into society as more successful, higher-functioning citizens.
A trial group of 29 inmates was relocated in the summer of 1910 to a 1,155-acre plot of land to the north of the Occoquan River. There, as part of their incarceration and intended rehabilitation, they built their own prison from the ground up.
The Workhouse campus eventually included a variety of agricultural and skill-based enterprises, such as pastureland, a cannery, hog ranch and slaughterhouse, dairy and blacksmith. For the period, the concept was groundbreaking to say the least.
"It was truly a flaming success in the United States," said Lynne Garvey-Hodge, Fairfax County history commissioner and Progressive Era historian. "In its founding days it was one of the most premiere reformatory facilities in the US."
The Workhouse also made its mark by infamously detaining 72 members of the National Women's Party—including a movement founder Lucy Burns—for women's voting rights protests between July and November 1917. Artifacts and mannequins depicting scenes from this controversial period are currently on view in the Workhouse Prison Museum in Building 9.
The prison facilities remained open until February 1968, during which time its occupancy swelled from the initial group of 29 to an infrastructure-crippling 3,700 worker-inmates. Despite the fact that D.C. had expanded its correctional complex beyond the Workhouse to over 3,200 acres including a reformatory, penitentiary and youth center, this number exceeded the space available by far.
After two unsuccessful attempts at re-using the facilities as both an alcoholic rehabilitation center for the D.C. Department of Public Health and a medium-security prison, a 1997 federal mandate ordered the prison to close for good in 2001. The next year, Fairfax County began the process of transforming the land again by purchasing 2,324 acres of the property for a sum of $4.2 million.
In addition to the residential developments that sprang up—including Lorton Station, Laurel Hill and Cavanaugh Crossing—the Lorton Arts Foundation stepped in with its own concept to convert some of the one-time prison structures into a multi-use arts and cultural center. The 55-acre segment of the former facility granted to the foundation opened publicly as the Workhouse Arts Center in September 2008.
"A phoenix that rose from the ashes of a very sad and sordid ending to a story, that in and of itself was a phoenix," said Garvey-Hodge, who chaired the Commission in 2005 when the Workhouse site received a nomination for the National Register of Historic Places. "The D.C. prison system was in terrible, terrible shape. I'm delighted and the citizenry is seeing something that's come full circle."
THE CURRENT WORKHOUSE CAMPUS comprises seven artist studio buildings, main galleries and a youth center with over 500 classes and workshops on offer each quarter. And that's just the beginning of a multi-phase renovation project that includes plans for a 900-person event center, 1,000-seat amphitheater, restaurants and a gardening center.
The Workhouse mission is to give both the immediate and wider residential areas as much art, history and culture as they can handle. From visual art to ceramics, textiles, dance, theater, film, there's a little bit of everything taking shape on a daily basis—and always with a sense of community at the core. Artists in residence keep their studio doors wide open and welcome interaction from visitors.
"For me, living here, I think it's one of the greatest things that could've happened to Lorton," said Workhouse director of marketing and Fairfax Station resident Camela Speer. "To bring something that's so culturally vibrant, so community-based, offering something that's really not available in this part of the county."
Indeed, outside of Alexandria, Lorton and Fairfax Station residents previously had few options for engaging in the breadth of artistic endeavors available at the Workhouse.
For instance, Saturday, Feb. 2 features the cabaret series program "Notorious!", the Amazing Gospel Souls—a vocal group made up entirely of former Lorton inmates—perform Sunday, Feb. 10, and the fifth annual Collectors Showcase of all manner of art from over 100 artists is taking place now until a culminating fundraiser event on Saturday, Feb. 23.
"When we were looking for art classes and workshops, the only thing we could do was go to the Torpedo Factory," said Jones, who is president of the BELLES, an 84-member Bright, Energized Ladies' League for Educating & Socializing.
"This is obviously closer. But it's also bigger and better," Jones continued. "It's very exciting, how they're still leaving the flavor of the prison. They're keeping the good, getting rid of the bad. Like broken glass in the windows—it's artistic. The buildings themselves are works of art. People in the community are really embracing it."
With events like the Workhouse lecture series aptly named "Uncover the Prison in Your Backyard," a curious and proud community has ample opportunities for discovery. On Wednesday, Jan. 9, the installment "Genesis of a Prison" drew a school-night crowd of 100. The next lecture in the series, "Life Behind Bars" (Feb. 13), features a panel of former inmates moderated by retired D.C. Department of Corrections prison chaplain Dr. Elwood Gray and figures to bring out even more curious community members.
"I think now with all the awareness of a new citizenry, people are wondering: What was the story about the prison in your backyard?" said Garvey-Hodge.
"Take the chapel in the prison," she continued. "It was conceived by a man—jailed for counterfeit—who had never been inside a church, but was artistic. The crucifix itself was sculpted by a prisoner, and the form of a prisoner was used to depict Christ. So, too, these prisoners were hanging between Hell and a new life, with the promise of a new beginning, they could be set free. There's so much richness."
As the Workhouse continues to grow and transform, its rich historical significance and plethora of opportunities for creating, appreciating, experiencing and collecting art in the community have already made it an invaluable landmark and asset to the Lorton area.
The Workhouse Arts Center of Lorton is open to the public Wednesday through Saturday 11 a.m.-7 p.m., Sunday from noon to 5 p.m. 9601 Ox Road, Lorton. For a full schedule of events, visit www.workhousearts.org.