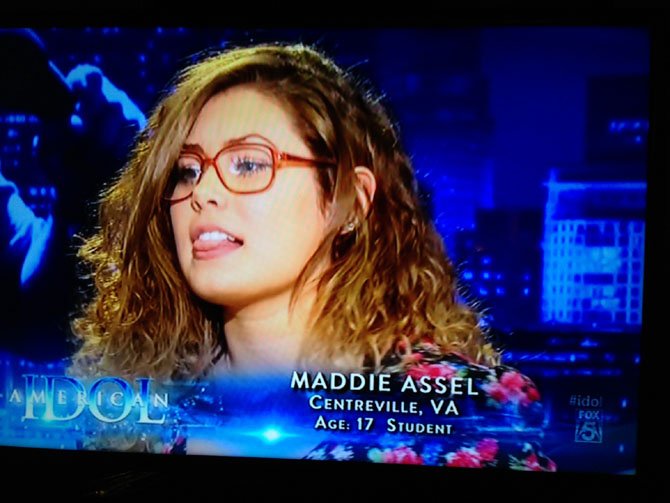 Assel's Former Teacher Sings Her Praises
It's always nice when a former student does well, so it's understandable how proud Liberty Middle School Theater Director Jody Scott is of Maddie Assel. The Centreville teen took Scott's Theatre Arts Appreciation and Advanced Theatre classes and was directed by her in the musical, "Annie Jr."
"As a seventh-grader, Maddie was a 'bird girl' in "Seussical Jr.," singing and dancing," said Scott. "In eighth grade, she played the lead in 'Annie Jr.' and was perfect for the role; she had a powerful voice, even then. In both my classes and plays, Maddie was a true delight. She was eager to learn, came prepared to class and rehearsal, was willing to take direction and was super-enthusiastic about whatever role she had, small or large."
Scott called Assel "thoroughly entertaining onstage and a leader in class, helping other students with their acting assignments. In the eighth-grade talent show, I selected Maddie to be one of the three, lead singers for the finale, 'Dancing Queen' from 'Mamma Mia.' She was so much fun to watch."
"I believed she'd find success, but not while she was still in high school," continued Scott. "Being selected for 'American Idol' shows her strong commitment and work ethic to her passion."
Scott's delighted that Assel is continuing on in performing arts. "How wonderful that the rest of the world will get to see the singer/entertainer that we've seen in Maddie," said Scott. "She has a unique style, and I think she has an excellent chance of advancing to the finals. Interestingly enough, the final scene work she did in my Advanced Theater class was called 'Waiting for Glory.'"
Centreville — Centreville High senior Maddie Assel is a bubbly, outgoing, 17-year-old. She's busy with school, friends, college visits and — oh, yes, she's also a contestant on "American Idol."
Viewers nationwide saw her on the popular, TV singing competition last Thursday, Jan. 24, as she belted out her own rendition of the Beatles's song, "Oh, Darling." She was auditioning for the show in Baton Rouge, La., and made such an impression on the judges that she got a ticket to Hollywood to compete further.
"I've watched 'American Idol' for so many seasons and have seen people holding a golden ticket," said Assel on Monday. "But it's one of those dreams you never think will happen to you."
Her name's pronounced "as-SELL," with the accent on the second syllable, and she lives in Little Rocky Run. She's also been singing since age 3, both at home and as a child doing errands with her parents, Teri and Allan, who both support her music endeavors.
Now, she's almost all grown up and even has her own You Tube account, youtube.com/therealmaddiesaith, where she did covers of The Weekend's "Wicked Games" and "Like Me" by 2 Chainz. "I haven't updated it lately," said Assel. "But I plan on adding songs weekly."
She's also gaining more exposure for her talents via "American Idol." Her friend Kara Perdue, plus her grandmother, Sylvia Assel of New Orleans, nominated her for the show together.
"They know each other and had videos of me singing, so they sent one to 'American Idol' last summer," said Assel. "And I was one out of seven chosen from hundreds of thousands of nominations like this, in the whole country."
She came home from school one day, toward the end of October, and her parents told her she had to fly immediately to New Orleans to audition for LSU's music program. Since she'd been applying to that and other prestigious music schools, she was excited.
"My mom and I flew together and were met by my grandma," said Assel. "Then we went out to dinner together at Café Du Monde and a band started playing my favorite song, 'Sitting on the Dock of the Bay,' by Otis Redding. My grandma told me to get up and go sing with them, and I decided, 'Why not? I'm in the French Quarter and will never get this opportunity again,' so I did."
While she sang, people started recording her on cameras and cell phones. "I thought they were confused, but I kept on singing," said Assel. "Then all of a sudden, I heard a deep voice behind me saying, 'Yo, Maddie,' and I turned around and it was Randy Jackson."
"I was completely shocked; I had no idea what was going on," she continued. "So I started crying because I was so overwhelmed. Then Randy told me to sing for him, and I did. I sang, 'Oh, Darling,' and he said, 'I can't wait to hear you tomorrow at auditions.' He said it would be before him, Mariah Carey, Nicki Minaj and Keith Urban in Baton Rouge. It was just surreal."
Then Jackson told Assel who'd nominated her. "It was amazing," she said. "It opened my eyes to the fact that other people believed in me, too."
Still, she was nervous before her big performance. "I wasn't prepared because everything was happening so fast that I didn't have time to practice," she said. "But I got four 'yesses' from the judges."
Walking into the room, said Assel, "I was just so excited to meet the judges. Everyone knows Mariah Carey, and she and the others all have such talent and have made names for themselves in the industry. So getting to sing before them was just incredible."
She made it to Hollywood Week but, beyond that, she can't talk about how she did because those shows haven't aired, yet. So people will have to tune in to find out. But she enjoyed being a tourist, visiting Hollywood for the first time. "It was the experience of a lifetime, getting to see all the things you see in movies," said Assel. "I saw the Hollywood sign, the Kodak Theater and the Walk of Fame, and all the other contestants were nice to me and took care of me."
She's continuing to go on college auditions "at the best music programs in the entire country, and it's an honor to do that," she said. Assel will also be in the spring showcase for singers at the Fairfax Academy, where she's in the Musical Theater and Actors Studio program taught by Mike Replogle, who directs the academy.
"The academy program at Fairfax High lets you focus on and practice what you want to be in performing arts when you grow up," she said. She's in her second year there, and classmate Isabelle Baucum says Assel has a wonderful voice.
"I haven't heard anyone else who sounds like her," said Baucum. "She's folksy, jazzy and poppy, with a versatile range, and totally her own artist." As for Maddie the person, Baucum calls her fun and sassy in a sweet way. "I like her a lot and I'm happy for her," she said. "I'm excited that she had this opportunity and is being noticed for it because she's talented and deserves the recognition."
Although Assel can sing rock, jazz and blues, she's leaning more toward performing pop music in college, en route to becoming a professional recording artist. Her favorite singers are Beyoncé and Haley Reinhart, who finished third on "Idol," a couple years ago.
"I was especially influenced by Haley, who opened the door for girls with those big, rock voices," said Assel. And she was helped on "Idol" by voice coach, Sarah Pramstaller, a Chantilly High grad and veteran performer and choreographer of that school's annual Jazz & Pizzazz shows.
"I've always wanted to be on 'American Idol,' but I thought, 'No way I'd ever make it and sing on that stage,'" said Assel. "But I learned that everything you dream is a possibility and, if you work hard enough for something you really want, it can actually happen."