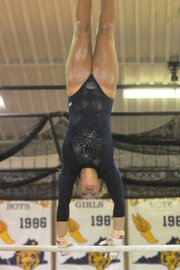 Burke — As a freshman in 2010, Simone Freidman led the Woodson gymnastics team to its first Patriot District championship. Three years later, Freidman, now a senior, helped the Cavaliers capture another title in the Patriot District's final year of existence.
Freidman, who signed with Bowling Green State University, won the all-around championship with a score of 38.1 and Woodson won the team title, beating its nearest competitor by more than 20 points during the Patriot District gymnastics meet on Jan. 29 at Lake Braddock Secondary School.
Lake Braddock won the previous two district championships, four of the last five and 14 of 18. On Tuesday night, however, Woodson posted a score of 140.1 to take home the title. Lake Braddock finished second with a score of 118.275 to earn the district's other Northern Region berth. West Potomac placed third with a score of 117.275, followed by West Springfield (109.4), Lee (108.375), South County (106.2), T.C. Williams (104.65) and Annandale (62.825).
"We're deep," Woodson head coach Mike Cooper said. "Where some of the teams tonight, they had maybe [a strong] 1-2, but we had 1-2-3-4."
WHILE THE CAVALIERS HAD DEPTH, they also had the top performer in Freidman, who placed first on beam (9.675) and floor (9.6), tied for first on vault (9.5) and finished second on bars (9.325).
"She's been doing it for years and years. That's her life," Cooper said. "She just has the talent. She has natural ability."
"We're deep. Where some of the teams tonight, they had maybe [a strong] 1-2, but we had 1-2-3-4."

—Woodson gymnastics coach Mike Cooper
Freidman won the all-around Patriot District title as a freshman during Woodson's first season after moving from the Liberty District. Club gymnastics commitments kept Freidman from competing for Woodson during her sophomore and junior seasons. She then switched to Apollo Gymnastics in Woodbridge, which allows its gymnasts to compete for their respective high schools, and re-joined the Cavaliers as a senior.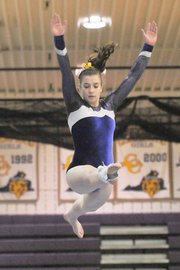 With the VHSL adopting a six-class format with conferences instead of districts next season, Freidman said she was glad Woodson will be the final Patriot District champion.
"It's actually amazing," she said. "… I think it's so awesome that we get the last Patriot District title. It really means a lot that we're going to be the last name on there."
While Freidman's top score came on the beam, she said her best work came on the vault and floor. She also accomplished her goal of posting a score of 38.
"I haven't competed vault at all this year in the high school gymnastics season, so this is my first time and I was really nervous about it," Freidman said. "Being able to go out there and [perform well] was a relief. With floor, it was the last event and scores were kind of coming down to see who was going to get the all-around [title] and I was kind of nervous about that."
Woodson's Rachael Talento placed fourth in the all-around with a score of 35.8. Annie Guidry was seventh (33.9) and Tori Keller was 13th (31.025).
Each of the six Cavaliers who competed on beam did not fall—something Cooper, who has coached gymnastics for 30 years, said not even his championship teams of the past accomplished. Along with Freidman's first-place finish on beam, Talento placed sixth (8.725), Guidry finished ninth (8.375), Kara Urban was 12th (8.225), Keller finished 13th (8.175) and Elena Yonika was 15th (7.875).
THE TOP EIGHT FINISHERS in each event qualified for the Northern Region meet, which will be held on Wednesday, Feb. 6, at Lake Braddock.
Lake Braddock's Whitney King finished second in the all-around with a score of 37.575. T.C. Williams' Holland Cathey placed third (36.3), Woodson's Talento was fourth and T.C. Williams' Grace Girard finished fifth (35.775). The top four all-around finishers, and any competitor with a score of 35 or better, qualified for regionals.
Lake Braddock's team total of 118.275 edged West Potomac by one point for the second and final regional berth. The Bruins appeared stunned when it was announced they would advance.
"I think we were all pleasantly surprised," Lake Braddock coach Ellen Hagan-Bowerman said.
King, a freshman, tied for first on vault (9.5), finished second on floor (9.475) and beam (9.4), and placed third on bars (9.2).
"She did a fantastic job," Hagan-Bowerman said. "She's a competitor. This is something she's been doing for a very, very long time. When it's time to compete, she's there and she's ready. Her head's in the game and she's on cue and she's on target and she gets the job done."