Veteran fastpitch softball player and coach Jordan Foster says she's ready for the challenge of leading the Herndon Reston Youth Softball League as Commissioner Bob Thomas retires and a new slate of officers takes the helm.
The growing girls' fastpitch softball league, serving players ages 6 to 18 in the greater Herndon-Reston area, will take on Foster to take the baton from Bob Thomas, who helped build a good name for the league.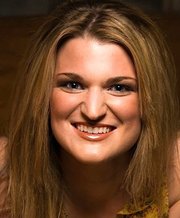 Foster graduated from George Mason University and has been active in softball
for 15 years. A Reston native, she played house league for Reston Youth Softball
and was a member of the Reston Redbirds travel organization. She attended South
Lakes High School, where she played on the Varsity team for four years and where she is currently entering her second year as the assistant junior varsity coach.
Foster has been part of the HRYS community since 2011, coaching teams ranging in age from 10 to 18.
In addition to Foster's appointment, the board elected Coach Melissa Pickell as
registrar and coach Chris Anderson as secretary, to replace registrar/coach Steve
Wieczorek and secretary/coach Peter Young, whose terms were completed. The board expressed their gratitude to the departing officers for all of their excellent work in developing HRYS into the program that it is today.