Tuba player Gunnery Sgt. Mark Thiele of Vienna, clarinetist Staff Sgt. Christopher Grant of Oakton and trumpeter/cornetist Staff Sgt. Robert Singer of Reston performed in the 57th Inauguration of the President of the United States on Monday, Jan. 21, as members of "The President's Own" United States Marine Band. This marks the Marine Band's 54th consecutive inaugural appearance.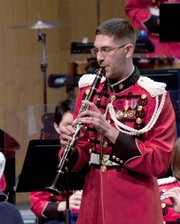 The Marine Band provides music for the Inauguration swearing-in ceremony at the U.S. Capitol, leads the second division of the parade down Pennsylvania Avenue, and performs at various inaugural balls throughout Washington, D.C. The President's Own is the only musical unit to participate in all three.
Gunnery Sgt. Thiele, the son of Richard and Gretchen Thiele of Vienna, currently resides in Vienna, with his wife Julia and children Emma, Joel, Evelyn and Andrew.
Staff Sgt. Grant, the son of Larry Grant of Oakton and Judith Grant of Portland, Ore., currently resides in Northern Virginia with his wife and son.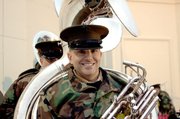 Staff Sgt. Singer, the son of Karen and Marvin Singer of Reston, currently resides in Silver Spring, Md., with his wife Hilde, and their children Zachary and Anneka.
The Marine Band is America's oldest continuously active professional musical organization. Founded in 1798, the band has performed for every U.S. president since John Adams. Known as "The President's Own" since the days of Thomas Jefferson, the Marine Band's primary mission is to provide music for the president of the United States and the commandant of the Marine Corps.