So. It's July 4, 2013. Independence Day. A federal holiday celebrating our freedom from Great Britain. The National Day of the United States.
And you have nothing planned.
Your children have dreams of fireworks in their head, your neighbors' homes are festooned with patriotic flair, and your friends already have their coolers packed and lawn chairs ready for their memorable 4th of July celebration.
(And no, you can't wear that stars-and-stripes shirt with the matching light-up fireworks socks some "other" day.)
It's not too late for you to have a fun-filled 4th of July too. We've compiled a list of the best local events, close to your home and mostly free. You're welcome.
Happy 4th of July!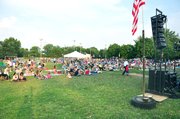 Reston
*8 a.m. to noon—Firecracker 5k at Reston Town Center's Potomac River Running Store, 11911 Democracy Drive
The 4th annual Firecracker 5k, benefiting the USO of Metropolitan Washington, is open to runners of all ages. Enjoy live music, face painting, flag-waving and free massages. Come out and root for your favorite military branch in the "Battle of the Branches" competition. Sign up to race at bit.ly/Firecracker5k. Celebrate our littlest patriots by bringing pencil sharpeners and notebooks to "Stuff the Mobile USO Truck!" The school supplies contribute to USO-Metro's Operation Back to School program, which provides nearly 4,000 local military children a backpack filled with school supplies.
For more information, go to www.potomacriverrunning.com.
*8:30 a.m.—American Tap Room Hosts 4th of July Festivities, Reston Town Center, 1811 Library Street
The American Tap Room of Reston will be going all out this 4th of July with a special celebration including food and beverage specials, Kids' Patriotic Zone and a Harley Davidson motorcycle giveaway. The event kicks off early as runners, families and friends come out for breakfast following the Potomac River Running 5K. Breakfast will be open for all from 8:30 a.m. to noon. Also starting at 8:30 a.m. is the "Kids' Own Patriotic Zone," with a Scavenger Hunt and Moon bounce area. At noon, there will be a Harley Davidson simulator as well as a last-chance opportunity to sign up and win a Harley Davidson motorcycle. Food and beverage specials will be available throughout the day. The restaurant features a variety of American favorites, local craft beers, a stylish bar and expansive dining area.
For more information, go to www.americantaproom.com or call 703- 834-0400.
*11 a.m. to 4 p.m.—Lake Newport Pool 4th of July Party, Lake Newport Pool, 11601 Lake Newport Road
Start Independence Day with a splash. The Lake Newport Pool hosts a July 4th celebration, featuring a DJ, contests and prizes. Pizza, popcorn and cotton candy will be available for purchase. This free program will be canceled in the event of rain.
For more information, contact Ashleigh@reston.org or call 703-435-6577.
*9:15 p.m.—Lake Fairfax Fireworks Spectacular, Lake Fairfax, 1400 Lake Fairfax Drive; Park opens at 7 a.m.; The Water Mine opens at 10 a.m.
Lake Fairfax Park features an 18-acre lake and the family-friendly Water Mine, an outdoor swimming pool with water slides and a lazy river. The 476-acre park also features seasonal fishing, campgrounds, picnic areas, trails, party areas, a carousel, and playground. On July 4, park grounds open at 7 a.m., and admission is free, so bring your family for a full day of fun. The Water Mine water park will be open from 10 a.m. to 8 p.m., but usually hits capacity very early, so plan accordingly. There will be vendors near the park's main office offering a variety of foods and dessert treats. The carousel and marina will be open from 11 a.m. to 6 p.m. There is also a puppet show from 6 p.m. to 8 p.m. near the carousel. Parking attendants will be directing traffic throughout the park. The fireworks show will begin at approximately 9:15 p.m. The fireworks are shot off over the lake so the view can be seen from almost any location in the park. The campgrounds are available for anyone wishing to stay overnight. Reservations are highly recommended and will be accepted as long as space is available.
For more information, go to www.fairfaxcounty.gov/parks/lakefairfax/ or call 703-471-5415.
The Town of Herndon
*5 p.m.—The Town of Herndon's Fourth of July Celebration, Bready Park at the Herndon Community Center, 814 Ferndale Avenue
Join the Town of Herndon on July 4 for a family-fun event featuring games, arts & craft activities, bingo, food face painting, balloon artists and more. At 6:30 p.m., enjoy a variety of festival food for sale, along with games and activities. Fireworks begin at 9:30 p.m. and will be choreographed to music. Bring a blanket or a lawn chair. Parking is available at Herndon Middle School. Please note: If you park at Herndon Community Center you will not be able to leave the parking lot until after the Fire Marshall gives the all clear generally 30-45 minutes after the conclusion of the show. The Herndon Community Center is open on the July 4th from 11 a.m. to 6 p.m.
For more information, go to www.herndon-va.gov.