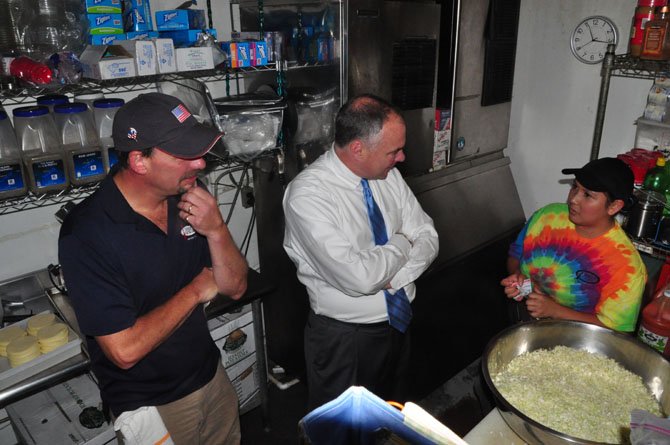 Herndon — Sen. Tim Kaine (D) took a tour of downtown Herndon Friday, June 28, visiting a variety of local businesses. Kaine, who was in the area to vote in favor of the immigration reform bill, didn't have to look too hard to find an example of its local effect.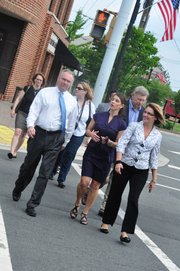 During a visit to Jimmy's Old Town Tavern, owner Jimmy Cirrito told Kaine about the events of the previous summer. In 2000, the tavern hired a woman with a work Visa, and over time she recommended hires to friends and relatives.
"A year ago, I was contacted by Homeland Security that there was a suspicion that employees in the kitchen were illegal, and I had to remove them. I shared all their documents that I had on file, I-9's and others, with Homeland Security, who verified that they were all fake documents," Cirrito said. "On July 4 last year we removed them. I knew all their names, they were always on time and hard workers, very reliable, and it was one of the biggest heartbreaks of my life to let them go."
Cirrito said that over the past year, he experienced a lot of turnover with the replacement staff, but that he recently had received some good news.
"Just yesterday, one young lady, Flora Benivedes came in and showed me her DREAM Act authorization card," Cirrito said. "She started today, and she's here working right now."
Kaine pointed to Cirrito's story as an example of why he has made immigration reform a part of his platform.
"The vote we made yesterday is what's going to help clear up situations like this," he said. "I hear this story a lot, and hopefully we can start hearing more happy endings."
Other stops along the tour included Maude Hair Salon, Soliloquy Bridal Couture, Herndon ArtSpace, Stout and Teague real estate services, Green Lizard Cycling and Unique Reflections barber shop.
"I hope the senator was able to get a good sense of the fabric of Herndon, because we all know a lot of changes are coming, and it doesn't hurt to have a senator that is familiar with businesses and community members," said Dylan Strauss of Herndon.
Kaine discussed topics with Herndon business owners and community members from development along the W&OD Trail to the arrival of Metrorail.
"It's nice to get out into towns and communities when there's not a vote or anything going on," said Kaine, who planned to head back to Richmond later in the afternoon. "This is the way to get a clear picture of what's going on in a town like this."