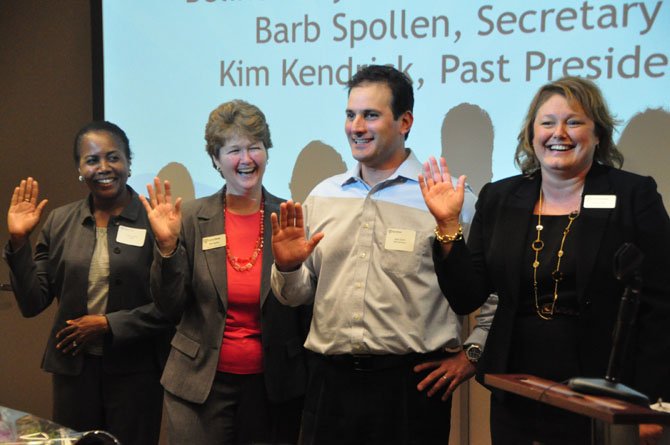 McLean — Shelter House, a Herndon-based nonprofit that serves those affected by homelessness and domestic abuse, held their annual awards ceremony and welcomed a new board Tuesday, June 25.
Award Winners
Changing Lives Awards:
Passion 4 Community
Lord of Life Lutheran Church
St. Luke's United Methodist Church
Ending Homelessness and Domestic Violence Awards:
Great Falls Friends and Neighbors
Keller Williams Fairfax Gateway
Lori Tagami Youth Volunteer Award
Natalie Hacher
Charlotte Lackey
Molly Sullivan
Rock Spring UCC Youth
Community Champion Awards:
McLean Bible Church
Madison Ridge Apartments
Falls Church Presbyterian Church
This year, Shelter House helped a total of 272 families across their three shelters, an increase of 8 percent from last year. They also served 27 households with their prevention program, seven households in their permanent support housing program, more than 10 families in their transitional housing program.
"Of the 272 families we served in our shelters this year, more than 70 percent ended their homelessness after leaving the shelter," said Joe Meyer, deputy executive director of Shelter House. "For the households in our domestic violence shelter, more than 65 percent of them exited to safe, stable housing away from their abuser. And our community case management program helped prevent over 25 at-risk families from becoming homeless in the first place."
While the numbers from last year were promising, Meyer said they still have ways to go. "Over 1,300 men, women and children remain at risk for homelessness every single night," he said. "Thirty-five percent of victims, with their children, are returning back home to their abuser because they have no better place to go."
ONE OF THE FAMILIES helped by Shelter House was a woman named Karen and her four children. After being assaulted, Karen and her children became homeless in 2011 and lived in Patrick Henry Shelter for four months.
"Shelter House's transitional housing program helped us put our lives back together," she said. "We have been able to pay some of our debts, pay for some medical treatments, medicine and childcare costs. They also help us emotionally. They helped us build self confidence to help us overcome our fears and obstacles by providing counseling and support."
Fairfax County Deputy Executive Patricia Harrison was among those present at the ceremony, and she praised Shelter House for helping Karen, as well as hundreds like her.
"Karen's story really gives us a clear understanding of Shelter House's work and contributions as a strong non-profit providing much needed support to families and individuals," she said. "As a partner, Shelter House continues to play a role in the county's overall strategy to prevent and end homelessness. Last year, for the third consecutive year, the county experienced fewer homeless families and an increase of number of families supported by the county's domestic violence network."
In addition to manning the two shelters, Shelter House leaders have helped the county fine tune their administrative procedures.
"Shelter House was a key player of redesigning the homeless shelter intake system. This redesign eliminated the waiting list, which meant an approximately 90-day wait to get into a shelter, and enabled families to access shelter immediately upon becoming homeless," Mayer said. "Also, Shelter House continues to be the only organization that operates a 24/7 crisis center for victims of domestic violence, with only 34 beds for the entire county, we consistently serve more people than we have capacity for, placing them in out-of-jurisdiction shelters, and sometimes hotels."
SHELTER HOUSE also welcomed a new board of directors for the upcoming fiscal year. New President Denise Miller said she hopes to continue and improve upon Shelter House's mission.
"Many of us are familiar with the proverb, 'give a man a fish, feed him for a day, teach him to fish, feed him for a lifetime.' I love this saying, it truly embraces our mission at Shelter House," she said. "While we may serve fish now and again, we provide out clients with lessons that can make a difference in their lives, and the lives of their families that can last a lifetime."