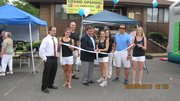 Local residents, current clients and friends celebrated the grand opening of Total Health Concepts of Vienna on June 8, enjoying a sampling of the company's services, nutritious grilled food, and a moon bounce for youngsters. Total Health Concepts integrates nutrition counseling, fitness training, relationship coaching and therapy in a multifaceted approach to help people live healthy lives and find personal fulfillment. Founded in 1986 by Virginia Inglese, the company recently expanded its offices to its new Vienna location. The new facility includes several offices, a large fitness room, and a group and multimedia room. Total Health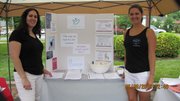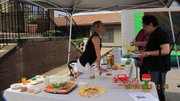 Concepts offers individual, couples, family and group services in all of its disciplines. Special focus is given to weight management and disordered eating treatment. The grand opening also introduced a new partner company, Parenting By Heart. This new endeavor helps parents learn to connect with their children and positively cope with behavioral issues. The company has two upcoming workshops on July 16 and Aug. 8 at 7:30 p.m. Interested participants can contact the Parenting By Heart offices to sign up or hear additional information.
Joining in the grand opening was Breakthrough Chiropractic Care run by Dr. Ben Glasman, specializing in pain relief and functional neurology. The ribbon cutting ceremony was attended by Mike Polychrones of the Vienna Town Council and the Vienna chapter of Moms Run This Town, a running group for local mothers and women. Total Health Concepts sent out a thank you to attendees and posted pictures of the event on its Facebook page.
All three companies have offices located at 402 Maple Ave. West in Vienna. Total Health Concepts can be contacted at 703-255-7012 or online at www.totalhealthconcepts.net. Parenting By Heart can be contacted at 703-309-9131 or online at www.parentingbyheart.net. Breakthrough Chiropractic Care can be contacted at 703-291-6677 or online at breakthroughchiropractic.com.