From monogrammed pendants to leather wrap bracelets, a dizzying array of jewelry is on the market. Determining how to spend money wisely and still look stylish can be tricky, but fortunately local experts are here to help.
Local jewelers and style experts say one way to get the most for your money when buying jewelry is investing in classic pieces that stand the test of time.
"A classic is a piece that you can wear every day of your life and still look fashionable," said Janice G. Ellinwood, department chair of fashion design and merchandising at Marymount University in Arlington.
At the top of this list of must-have jewelry are a strand of pearls and a pair of pearl stud earrings. "Audrey Hepburn and the movie Breakfast at Tiffany's come to mind when I think of pearls," said Ellinwood.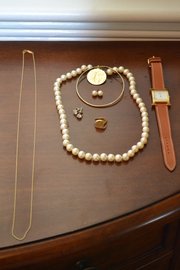 "A strand of pearls is the type of piece that you can build on," said Lindy Kavanaugh, a graduate of the Gemological Institute of America and a former jewelry appraiser for Tiffany & Co. in New York. "You can add a triple strand of pearls, for example."
Diamond stud earrings are another adornment that tops the list of classics. "A pair of diamond studs is a staple because it is something than can go from generation to generation," said jeweler and goldsmith George Kaufmann, who, along with business partner Robert Rosin, owns Robert Bernard Jewelers in Potomac, Md.
Kavanaugh said, "Diamond stud earrings look good on everybody and they are accessible to everybody because they vary in size and quality, so they can be affordable for everybody."
In addition, Kathryn Martin, an Alexandria-based stylist and personal shopper, believes that no jewelry wardrobe is complete without a pair of diamond hoop earrings. "Diamond hoop earrings are a little more interesting than studs, but are not gaudy," she said. "I am a big fan of accessories — I use a lot of them."
She also adds a medium-weight, gold-link bracelet to her list of jewelry must-haves. "Certain types of bracelets like cuffs go in and out of style, but medium weight is most timeless."
Kavanaugh agrees that uncomplicated gold bracelets like bangles are jewelry classics. "They are simple and something you can add to later," she said.
A simple gold chain, say stylists, can be added to other necklaces to allow for a variety of looks. "One longer gold necklace, especially one that can be layered, is a classic piece to own," said Martin. "You don't have to worry about where it is hitting on your chest. It is an easier piece to work with."
One functional classic, say experts, is a well-made watch. "If you're going to buy a watch, I think that you're going to want to invest in a piece that will hold its value," said Martin. "Hermes is totally sophisticated, casual elegance. It can be edgy, sleek or whatever you need it to be. They are interesting in that way."
Signet rings are another classic. "This often depends on a person's stage in life and their willingness to reveal their identity due to safety," Ellinwood said.
Ellinwood also considers cameos to be classic pieces. "Cameo pins don't really ever go out of style," she said. "They are often valued by people who value history."