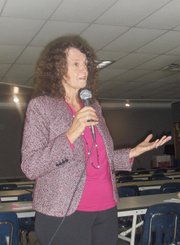 It's not easy being a teenager. And in today's world—where a fragile psyche can be crushed by thoughtless, callous and hurtful words by an online bully—it's important to endow teens with the tools they need to have confidence in themselves, shake off the insults and bounce back.
Toward that end, nationally renowned resiliency expert Nan Henderson spoke to about 150 parents recently at Robinson Secondary School on "Resiliency in Action: How Families, Schools and Communities Create 'Bounce-Back Kids.'"
Her presentation was held in conjunction with the resiliency program developed by the FCPS Department of Special Services in collaboration with Fairfax County government and several community youth groups. It focuses on bullying prevention and intervention; suicide prevention and helping children deal with depression; and responses to crisis situations, such as a student's or teacher's death or a natural or man-made disaster.
Impressed with the program, Henderson said, "This county is cutting-edge in actually embracing resiliency data in helping kids bounce back from adversity."
In creating it, FCPS surveyed students in sixth, eighth, 10th and 12th grades to determine both their risk factors and protective factors. Some students were bullied or had bullied others, some had been depressed or had contemplated suicide, and others needed help dealing with crises.
FCPS wanted its school psychologists, social workers and counselors to have common responses in crises, and its resiliency program used Henderson's work to link to helpful resources.


AT ROBINSON, she explained how adults can help students develop social competence, problem-solving skills, self-awareness, control and initiative. They're all traits resilient individuals possess to bounce back and overcome whatever obstacles they face.
"As a social worker in the early 1980s, I was concerned about wellness for young people and wanted them to be able to move from stress and trauma to a place of success," said Henderson. "But we always focused on the problems; and as we did so, both the child and parents became more and more demoralized."
By 1988, she knew something was wrong and, a year later, she moved to Albuquerque, N.M., as a school social worker. In 1990, schools there received a grant from the U.S. Department of Education to research how to intervene in and prevent youth risk behavior.
While researching, Henderson discovered that, "If you look over time at children and youth who go through adversity and risk behavior, the majority of them bounce back and do well. So focusing on problems, instead of resiliency, was missing the point."
The resiliency model challenges adults to hone in on children's individual strengths. So over four years, Henderson worked with a couple dozen schools and learned how schools can be effective at building resiliency. And in the 1990s, she wrote her first book on the subject to share her message with mental-health professionals and parents, too.
"We have the power to build bounce-back kids," she said. "The human condition, since the beginning of time, is all about resiliency and bouncing back from adversity. So we need to harness and find evidence of it; all children will do better if they have resiliency-building conditions in their lives."
Henderson said people, no matter what age, bounce back because of protective factors. "So parents and other professionals need to see themselves as protective factors," she said. "Parents may feel helpless to remove their children's stresses, risks and traumas, but they can put into their lives emotional protective factors to strengthen and buffer them."
Often, said Henderson, "We see a child's potential and ask why they're not doing better. Instead, we should ask what is it that keeps this child doing as well as he or she is, despite all his or her problems and struggles. What within them allows this to happen?"
She said something inside children strengthens so they can overcome their challenges. So Henderson said parents should think about how they can help their children become stronger and more resilient.
"Look for what's right and good in the child," she told them. "You think of a child differently when you see the whole picture and not just the negatives. It's an act of will for us to recognize, reinforce and be a mirror when we see children take a step forward. So become a reflector of their strengths so they'll start to believe them, too."


HENDERSON SAID parents should provide opportunities for their children to share their time and talents with others. For example, she said, "They could help disabled veterans or other people in need, so they can offer something and help people with problems greater than theirs."
She said parents should also treat their children with more warmth and less criticism, set and enforce clear boundaries, encourage supportive relationships with other caring people, promote education and responsibility, and provide opportunities for leadership and decision-making. They should also foster feelings of self-worth, self-motivation and perseverance in their children, as well as flexibility and a sense of humor.
Henderson said parents and other adults should let children know they believe in them and have high expectations for them. It's also important to tell them things such as, "You matter" and "It doesn't matter what you've done in the past."
She also advises parents not to give up on their children because "resiliency is a process that takes time. We are hard-wired to bounce back. When people go through problems and come out the other side, they're changed and have greater self-esteem and personal empowerment."