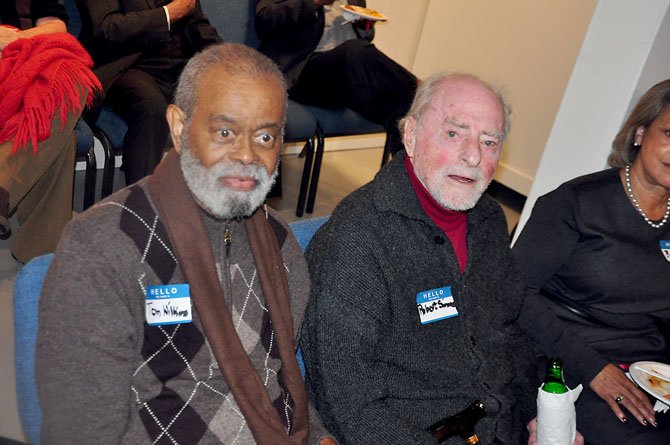 Reston — When Dr. Thomas Wilkins moved to Reston in 1969, he said he did so because it was "an island of equality in a sea of inequality." Wilkins passed away Saturday, July 20 at the age of 83, having spent 44 years trying to make Reston a stronger community.
"I'm a Restonian," Wilkins said in 2005, while discussing Reston's history of inclusiveness for people of all races. "I'm fighting for what will make our community, not one of the best, but the best community in the United States."
He served in the Army, and graduated from Saint Paul's College before spending a number of years working for the Department of Labor. Later, he was a staff member to Fairfax County Board of Supervisors Chair Tom Davis, who would go on to become a congressman.
More recently, he worked with Warren Thompson of Thompson Hospitality, who runs American Tap Room in Reston.
Tammi Petrine, a member of the Reston Citizens Association, remembered Wilkins fondly as the man who officiated the wedding of her son and daughter-in-law at her home in Reston. She remembers the special bond Wilkins formed with their then three-year-old grandson Robbie.
"Quite a beautiful pair they made; the very tall, distinguished gentleman and a very short, curly haired nymph. Throughout the evening, Dr. Wilkins' kindness never waived as his little shadow followed him step for step. At the end of the evening when Tom walked outside to leave, Robbie raced after him to bestow a big hug and kiss for his new friend," she said. "The cliché that small children are the best judges of fine character certainly held true on this magical night as our family's seminal event was enriched by the charms of a great man whose life was dedicated to improving this very complex world."
Carol Ann Bradley, past chair of the Reston Community Center and former principal of Terraset Elementary School, said Wilkins was one of the first people she met when she moved to Reston 40 years ago. "I will always remember Tom first and foremost as a loving father and husband," she said. "The Wilkins home was always a place where my children and I felt welcome, it was filled with food, fun and family. He was a wonderful, caring friend who was always excited to help others."
WILKINS WAS RECOGNIZED for his propensity to help others in 1997, when he was recognized as Best of Reston during the annual awards ceremony.
One of the most lasting parts of his legacy is the Martin Luther King Jr. Cultural Foundation, which he helped found in 1999.
"He founded the Martin Luther King Jr. Cultural Foundation as a member of the Martin Luther King Christian Church, with the idea that the church would organize it, incorporate it and eventually turn it over to the community, which is what happened," said Roger Lewis, a member of the foundation. "His vision was that the needs of the community wouldn't be met by just a faith-based organization, but with the efforts of the whole community."
When the foundation began awarding scholarships in 2000, Wilkins was among the first people to fund one, naming it after his late wife Delores. Since then, they have awarded more than $250,000 in scholarships to more than 130 local students.
"Tom was a champion of volunteerism, and everything we've been able to do with the foundation has been a result of that volunteerism," Lewis said. "He was also a mentor for me, helping move from a career in the military and business into the world of nonprofits. And I wasn't alone, he inspired a lot of people to get involved, to learn how to give back."
Myrtle Gallow, president of the foundation's board, called Wilkins a "pied piper" when it came to his interactions with people. "He was always giving advice, encouraging people to move up, to do better, he wanted everyone to get involved," she said. The foundation recognizes several people with the Outstanding Educator Award each year, and Gallow said that future award will be named after Wilkins, himself a past winner.
Retired Gen. William "Kip" Ward and his wife Joyce Lewis Ward first met Wilkins after reading an article about how he came from Joyce's hometown of Lawrenceville, Va. Upon meeting him, they found that Wilkins had vivid memories of Joyce's father, and shared them with her.
"That was the start of a wonderful relationship we had with Tom. We were in the same fraternity, and we bonded over our military service. As he got older, we would bring him food, and just sitting talking with him was always a great experience," Kip Ward said. "He was such a great advocate for development, for investing in human capital. He was an instrumental force in making Reston the diverse and welcoming community it is."
OTHERS REMEMBERED the warmth and kindness that Wilkins seemed to exude.
"I think we'll all miss his kindness and friendship most of all," said Mary Ann Hovis, a member of the Martin Luther King Jr. Cultural Foundation. "And he was incredibly dedicated. He came to every single event he could, including our last board meeting."
Wilkins was involved in many organizations in his four decades in Reston. He served at the Reston Association's first (and only to date) African-American president, and he was president of Fairfax chapter of the NAACP.
He was also active in the county's Meals on Wheels Program, the Stonegate Village Advisory Board and tutored local students. He was a founding board member of the Medical Care for Children Partnership. Wilkins was predeceased by his wife Delores, herself a prominent member of the community who founded the annual Martin Luther King Jr. Day celebration in Reston.
He is survived by children Tommy, Lisa and Mark, as well as grandchildren Ryland, Walker and Sabrina.
A viewing will be held at 9 a.m. at the Heritage Fellowship Church at 2501 Fox Mill Road in Reston, with a service to follow at 11 a.m.