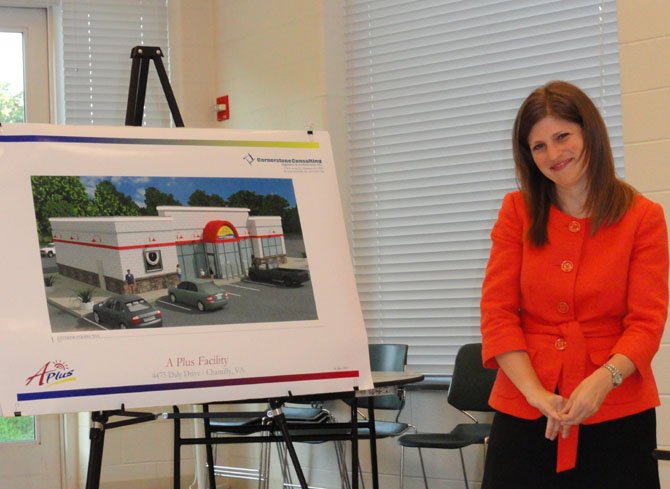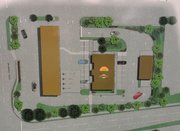 Sunoco plans to expand its gas station near the Dulles Expo Center in Chantilly. But its intention to sell alcoholic beverages in its associated convenience store is giving a local, land-use committee pause.
Representing the entity, attorney Sara Mariska presented details during the July 16 meeting of the West Fairfax County Citizens Association (WFCCA) Land-Use Committee.
This Sunoco is at 4475 Daly Drive, by Willard Road in Chantilly, and initially began serving people as a Mobil station. "It's an old gas station that's been there since 1989," said Mariska. "But Sunoco acquired additional land, so it wants to add some features in response to customer demand."
Currently, there are has six fuel pumps under a canopy, plus a carwash and a 1,571-square-foot convenience store. But Sunoco wants to add four more gas pumps under that canopy, demolish the old store and put a 3,159-square-foot, quick-service food store in place of the car wash, which will be moved from the center of the site to the rear. Also planned is more parking.
WFCCA's Judy Heisinger then asked if the store would sell alcoholic beverages. "Mini-marts aren't allowed to sell alcohol, so the old one couldn't," replied Mariska. "But we'll be requesting it for the new, larger store."
"Over the years, in the Sully District, we've taken a position against selling alcohol with gas," said WFCCA's Mark McConn. "We don't like the idea of alcohol, gas and go. It's just asking for trouble, and we don't want to endorse that."
While noting that it's not in Sunoco's best interests to have people loitering outside the store or drinking in the parking lot, Mariska said selling alcohol at the store is "an important part of our business model."
WFCCA Land-Use Chairman Jim Katcham asked if beer would be sold in six-packs or individually, and Sunoco Area Manager Mike Millman said the plan is to sell six-packs, cases and single servings.
If that were the case, said Heisinger, "This would be the only [gas station/convenience store] in Sully that breaks the rule."
"It's a fine line between buying alcohol [there vs.] at a grocery store," said Mariska. "And it may be preferable [at a gas-station convenience store] because customer comings and goings are more closely monitored."
But the panel wasn't convinced, and neither was At-Large Planning Commissioner Jim Hart, a former member and longtime chairman of the WFCCA Land-Use Committee.
"Jim McDonnell, who chaired this committee for years, felt strongly that he didn't want gasoline sales and beer available in one place," said Hart. "And pretty consistently, within Sully District's boundaries, nobody got support from WFCCA to do it."
He noted several other gas station/convenience store combinations in Sully that tried to get similar permission from the WFCCA and failed. And he said the WFCCA has opposed this idea "even farther back" than 1995.
Mariska said, "That's something we'll have to discuss internally and see how it affects our business model."
Sully District Planning Commissioner John Litzenberger asked if the new Walmart near the Expo Center was attracting more people to the area and, therefore, driving Sunoco's expansion at that location.
"No, not at all," replied Millman. "I've been the rep for that station for 25 years — since it opened as a Mobil station with just four pumps. And the station's been growing every year. Tankers come every day from Balls Ford Road in Manassas. Yesterday, we did 11,000 gallons, and the tankers hold 9,000 gallons."
McConn asked why gasoline prices vary so much between the same brand of gas at different stations, and Millman said franchisees set their own gas prices. Usually, he added, "They try to be competitive with the other stations nearby."
As for this, particular station and its planned expansion, there's no county staff report, yet, so the WFCCA didn't vote on it at last week's meeting. Mariska said the applicant will probably return to the panel in August. The matter is scheduled to go to the county Planning Commission on Oct. 3.