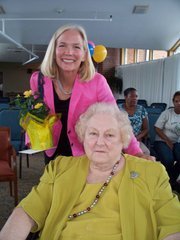 Alexandria — The Hermitage Assisted Living Facility in Alexandria is home for many of Alexandria's seniors. On July 2, one of its residents celebrated a birthday with lively music, festive foods and of course a special birthday cake. Mrs. Lillian Parker, a long-time resident of the Hermitage, celebrated her special day with her family, including two of her daughters and granddaughter, a room full of friends and special guests.
One of the special guests in attendance was Bonnie O'Neil, Mrs. Parker's "friendly visitor." Bonnie is one of over 35 volunteers who visit Alexandria seniors as part of Senior Services of Alexandria's "Friendly Visitor" program. Bonnie and Mrs. Parker meet weekly for a social visit to talk, play games, go for a walk or enjoy one another's company. They've been meeting for the past two months and the relationship has blossomed into a very good friendship.
"I look forward to my meetings with Mrs. Parker," Bonnie said. We have lively conversations about everything, what's going on at the Hermitage and with her family. It is the highlight of my week and I hope hers as well."
SSA continues to match volunteers with seniors who are lonely and don't have regular visits from family and friends. "Our goal is to make matches until there are no more lonely seniors in the city of Alexandria," said Sarah Drexler, who coordinates the "Friendly Visitor" program at SSA.
"Volunteers are the backbone of SSA's programs for Alexandria's seniors, which include delivering meals 365 days a year for the City of Alexandria's Meals on Wheels program, as well as the "Friendly Visitor" program. We are grateful for their dedication and commitment to our seniors," said Mary Lee Anderson, acting executive director for Senior Services.
If you are interested in being part of our volunteer team for Meals on Wheels, you can email us at mealsonwheels@seniorservicesalex.org or call 703-836-4414, ext 12. We are especially in need of volunteers for weekend deliveries.
If you would like to be a "friendly visitor" or know of a senior who could use a visitor, email us at friendlyvisitor@seniorsericesalex.org or call 703-836-414, ext 20.
SSA's mission is to foster independence and self sufficiency, enabling Alexandria's seniors to age with dignity.