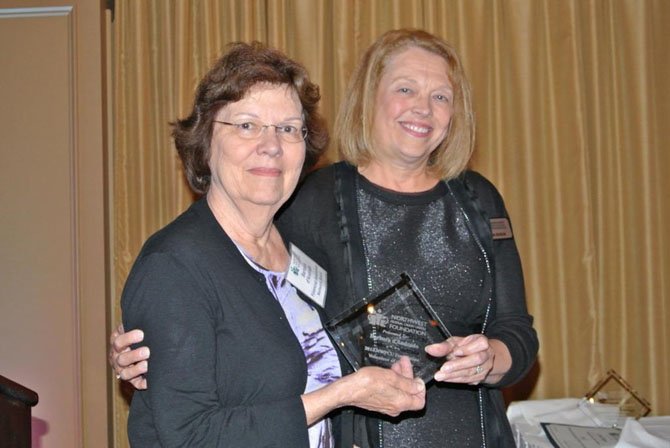 Northwest Federal Credit Union Foundation knows many hands play a role in the success of its charitable outreach and financial education efforts—including those of Barbara d'Andrade, its former executive director who has remained an active foundation volunteer since retiring in 2007.
NWFCU Foundation named d'Andrade, who resides in Vienna, its 2013 Volunteer of the Year at its annual awards ceremony last month.
"Did they surprise me? They really did, but I am so honored to be recognized," said d'Andrade, who holds a "great passion" for the efforts of the foundation. "It's so rewarding to volunteer and see the difference you can make in the community. I get such satisfaction in helping others through the foundation."
While d'Andrade assists with many foundation programs, she has two favorites: serving on the Scholarship Committee and helping with its Realty Store.
"I enjoy volunteering with the scholarship program—it's a phenomenal recognition of students' leadership and dedication to their communities," said d'Andrade. "It seems there are many awards available for students with the highest academic achievements, but not as many for those exhibiting great leadership qualities but not ranked at the top in their class. These scholarships acknowledge this group." The foundation recently awarded more than $100,000 in scholarships for 2013.
The Reality Store provides local high school students a glance at life and responsibilities 10 years in the future. "We try to teach them what they might face in the future with a career, salary, family and budgeting issues," said d'Andrade. "We help them make decisions based on their given life scenario. It's a real eye opener for them, and it's wonderful to help focus them in the right direction." Roughly 25 volunteers assist during each session of the Realty Store, and nearly 10,000 students have participated in the program during the past four years.

At the foundation's awards ceremony, several others were honored, including:
The NWFCU Foundation's 2013 Educator Partner of the Year: Julie Pickering, marketing teacher/coordinator at Herndon High School. Pickering is the foundation's biggest cheerleader at Herndon High School, self-initiating various Herndon High School partnerships with the foundation throughout the year.

The NWFCU Foundation's 2013 Leadership Award: Juri Valdov, Round Hill, Va. Valdov is a past president/CEO of NWFCU and founded the foundation during his tenure. He serves in many leadership roles within the credit union movement.

The NWFCU Foundation's 2013 Business Partner of the Year: gam graphics and marketing, Sterling, Va.

The NWFCU Foundation's 2013 Financial Education Partner of the Year: The Financial Awareness Network (FAN), Herndon.
FAN works to address the growing concern over the lack of financial education among today's youth and adults. It partners with the foundation to prepare individuals for financial success.
The foundation also awarded $20,000 in grants to its four partner schools from the Fairfax County Public School District: Dranesville Elementary, Louise Archer Elementary, Rachel Carson Middle and Herndon High schools. The funds will be used for technology enhancements and teacher/staff professional development opportunities.
"Our foundation's success is only possible with the support of many wonderful people giving their time, ideas and resources," said Linda Rogus, executive director of NWFCU Foundation. "Barbara has been a huge asset to our organization and the many, many people she touched through her volunteer efforts over the past six years. Her spirit and enthusiasm for helping others is infectious, and her award is truly well-deserved."
To get involved with the NWFCU Foundation, call 703-925-5092 or visit www.nwfcufoundation.org.