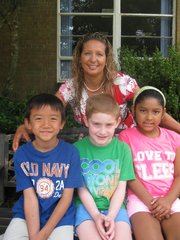 Roxanne Salata, 41, has a motto she likes to use: People first and paper second.
The New York City and Miami, Fla., native will take that to heart when she leads 520 students as the new principal at Ravensworth Elementary come September.
The school off Nutting Drive in Springfield has a racial breakdown of 17.32 percent Asian, 3.57 percent black, 26.07 percent Hispanic and 48.39 percent white students.
For goals, "I want to accomplish creating a school of 21st-century learners," she said. "Be somebody who is able to give the teachers everything that they need to help lead the students into being tomorrow's leaders."
A key word for her is "transparency," she said: "I want people to feel comfortable in knowing they can come to me if it's a good day or a bad day, and know that when they're talking to me, what they have to say is the most important thing happening for both of us at that moment."
She will be a fixture at the front of the building as students arrive in the mornings and leave in the afternoons. "Even if it's just to give a student a hug as they walk out the door; it might be the only hug that that child gets that day."
Ravensworth is somewhat small, with 19 full-time classroom teachers and 12 instructional assistants. It is also a Spanish-immersion school where 10 percent of its students are native Spanish speakers. But Salata does not see that as a hurdle. "It's more of a celebration of what we do here," said the conversational Spanish-speaker.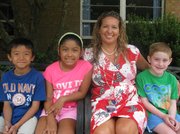 Her challenge is in the scheduling—making sure to schedule the immersion program alongside the general ed program so as not to create two schools inside one building… so that all students feel as they are in one community.
"The idea is to mix the entire grade level so students have the opportunity to collaborate with students who are non-immersion students," she said. The students are not mixed in grades 1-2, but are mixed in 3-6.
To help improve Ravensworth's AYP scores, she wants to protect teachers' instructional time with students; to make sure that teachers have the training and resources they need to do the job well.
Eleanor Contreras, principal of Lane Elementary School where Salata was assistant principal, calls her a people-person. "She makes great connections with students, staff and parents," said Contreras, who was impressed with her collaborative leadership skills. "She is able to mentor new teachers and challenges experienced teachers as well."
"She is about relationships, about people," said Jay Nocco, coordinator of the K-6 School Support for Fairfax County. "She values communication."
Katie Reynolds, assistant principal of Lane Elementary, agrees: "She always puts people and what kids' need first. She gives people room to grow and she coaches them."
When Salata was applying for the job, she heard how amazing the Ravensworth community was. "Families, parents, teachers, kids, and everyone has been so welcoming, kind and wonderful," she said.
She hopes to continue the school business partnership with Andrew Gause's Martial Arts in the Ravensworth Shopping Center, which holds after-school Tae Kwon Do classes. "It is a wildly successful and loved program here," she said.
Her 12-year background as a P.E. teacher taught her how to organize a large bunch of students in an organized way and work as a team for a common goal.
Salata attended the University of Dayton in Ohio, Florida International University and Nova Southeastern University in Miami, Fla. She has a degree in physical education and a master's in education leadership from Nova. In 1996, she started teaching P.E., math and science in Miami. In 2005, she moved here after researching five different school systems. "Hands down, Fairfax County was the cream of the crop," she said.