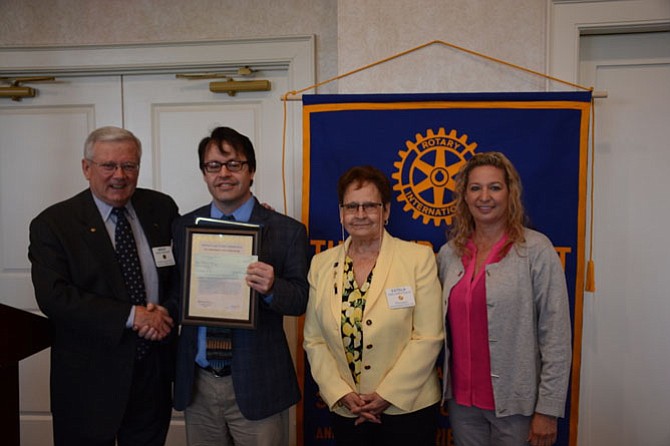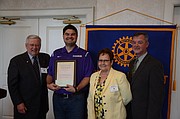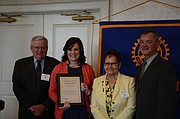 Rotary Club members prize the embodiment of the slogan "service above self." On April 19, members of the Rotary Club of West Springfield recognized three teachers, individuals serving children and young adults, who they and their principals decided have gone well beyond the requirements of the profession in order to help their students succeed.
Todd Austin, a counselor at Ravensworth Elementary School, was the first recognized. His principal Roxanne Salata said Austin was a mentor, teacher and friend to the school's students.
"He puts children first, above all else," Salata said.
Dave Thomas, principal of Lake Braddock Secondary School, spoke on two meritorious teacher award-winners — one from his middle school and one from high school.
Thomas said his two teachers "are very similar: They're kind and patient, and understand what motivates. They make great connections."
David Wickham teaches seventh grade Social Studies, now in his 11th year at the school. He also coaches junior varsity soccer at the school.
In living out the Rotarians' "service above self," Thomas said Wickham's "countless hours go above and beyond."
Eleventh and 12th grade English Special Education teacher at Lake Braddock Jennifer Celko was the final award-winner.
Thomas said their number-one goal as educators is to make sure each student graduates from high school, and in that regard, Celko has one of the hardest jobs in Fairfax County Public Schools.
"My students inspire me every day," Celko said. "Some work harder than I do, and work jobs themselves, help with younger brothers or sisters."
Celko told the anecdote of a young female student who, upon receiving her Standards of Learning testing scores results, thanked her teacher for believing in her.
"I can't imagine not believing in her," Celko said. "She's an amazing student."
The awards ceremony was held at the Springfield Golf and Country Club.
For more information, visit rotaryofwestspringfield.org.