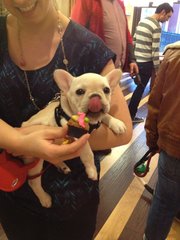 Marcia Schwartz strolled through the handbag section at a high-end department store at Tysons Galleria in McLean, Va., her eyes taking in the latest offerings from Prada. The companion at her side was not a personal shopper or a credit card-clad husband, however. It was a snow-white fuzzball with a rhinestone-encrusted collar named Cleopatra. Cleo, as she is most often called, is a Bichon Frisé.
"I have to say she is spoiled," said Schwartz, who lives in Alexandria, Va. "I don't have any children, so I consider her my daughter."
From designer accessories and couture canine clothing to gourmet dog food served in hand-thrown porcelain bowls, there is no shortage of splendor on the market for those who choose to spoil their pets.
When it comes to canine cuisine, Alexandria-based Barkley Square offers an array of gourmet treats that range from bacon cheddar bones made from whole-wheat flour to pawti fours, the company's twist on a traditional petit four. For pet owners who'd like to socialize their animals in style: "We have yappy-hours with a full spread for the dogs," said Sarah Zuidema, Barkley Square's marketing coordinator and "pawstry" chef. "We offer custom birthday party packages for girl or boy dogs with any theme you want. We do a lot birthday cakes and adoption day cakes for dogs who were adopted, and all of our treats contain no sugar."
Karlisa Goddard of Pet Valu in Potomac, Md., says front-style dog carriers are popular with those who choose to keep their pooches close. "They work [like] carriers that people use to carry their young babies in the front," she said. "It is the same concept except with a dog."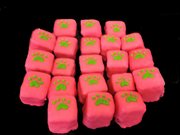 "We just put out a brand new line of spa products called Dog Fashion Spa and the fragrance is so incredibly amazing that I'm wearing it myself."

— Stacy Braverman
For some passionate pet lovers, no item is too good for a beloved pooch and they indulge in luxury accessories ranging from designer raincoats and cashmere sweaters to perfumed bath gels and jeweled leashes. Pet supply owners say the options in opulent pet accessories are almost limitless.
"We just put out a new line of spa products called Dog Fashion Spa, and the fragrance is so incredibly amazing that I'm wearing it myself," said Stacy Braverman, former Potomac resident and owner of online luxury pet supply store Bitch New York.
There is also an Aroma Paws line with scents such as honeysuckle jasmine, lavender chamomile and vanilla lemongrass. While enjoying the scents, dogs can relax in special spa robes and pajamas.
Owners of luxury pet supply stores say they get requests for custom-made winter coats, alpaca sweaters and even raincoats. "There are limited edition diamond dog collars, but the most popular collars are customizable crystal collars made from Italian leather," said Braverman.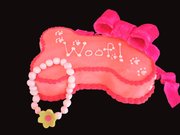 For daily grooming needs, Jordan Rolnick of PetMAC, which has locations in Arlington, Va., and Washington, D.C., recommends a FURminator brush. "When you use your regular brush, you're brushing the outside of your dog's fur, but it doesn't always get the stuff that is underneath," he said. "This brush gets the undercoat where the problem of shedding occurs."
When it comes to dental hygiene, Rolnick recommends Proden PlaqueOff Dental Care. "It is a seaweed enzyme that takes a week to build up in their system, but when it does you don't have to brush a dog's teeth as much."
Schwartz, however, says she doesn't need many grooming tools for Cleo. "I book in-home spa treatments for her."