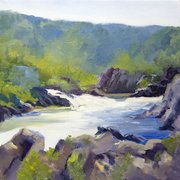 Great Falls — Virginia painter Karen Bateman is the featured guest artist at Katie's Coffee House in Great Falls for the month of June in an exhibit entitled "Water Everywhere." The artist creates oil paintings en plein air, a French expression for "in the open air." This style of painting was popularized by the Impressionists in the late 1800s who set themselves apart from the academic realism taught in conventional enclosed, indoor artist studios.
Bateman began painting in 2007, intrigued by a sign on the side of the road offering outdoor painting classes at nearby Riverbend Park. Encouraged by her instructor, Jack Warden, two of her earliest paintings were juried into a local art show after just a few classes.
Bateman's work has since been featured in numerous shows as well as a New York City gallery. She aspires to future gallery shows but especially enjoys participating in the annual Great Falls Studios Tour where she can both share and demonstrate her work with art enthusiasts.
Bateman's landscapes reflect her love of the outdoors. Completing her oil paintings in one sitting, in the alla prima style, infuses her work with the immediate feeling of a place. She seeks to capture interplay of light, shadow and atmosphere, while contending with outdoor challenges including bugs and weather changes. The banks of the Potomac, the Virginia wine country and the foothills of the Blue Ridge are among her favorite places to paint, as well as anywhere along the seacoast.
See her paintings this month at Katie's Coffee House, located at 760 Walker Road in Great Falls. Enjoy her work online at www.karenbatemanart.com. Contact the artist directly at 703-819-1419 or info@karenbatemanart.com.