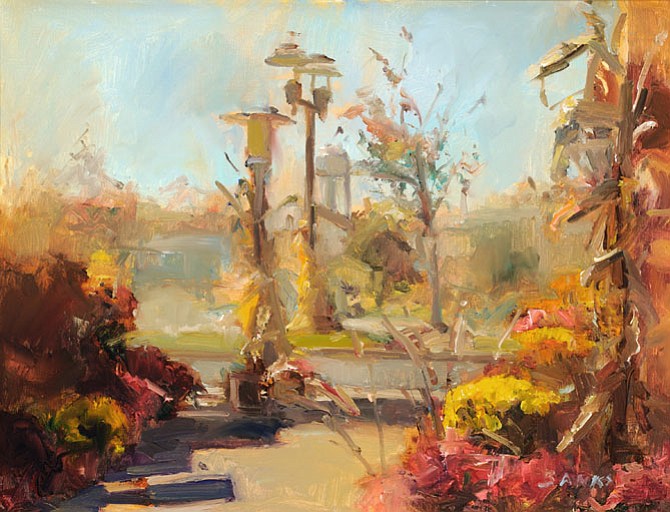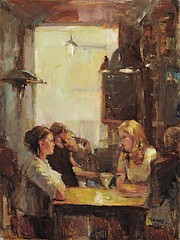 "Witness: Close Encounters of the Painting Kind," award-winning oil painter Jill Banks' solo exhibit of backyards, bars, beaches and other scenes are waiting to be seen in Katie's Coffee House (also open for dinner) at the Old Brogue Irish Pub, 760C Walker Road in the Great Falls Village Centre, from March 1-31. See www.JillBanks.com for an online preview of the exhibit and more information or call 703-403-7435).
Free Painting Demo on Saturday, March 19, 1 to 4 p.m. at the Artists' Atelier and Arts of Great Falls Gallery and School space a few doors away at 756 Walker Road, Great Falls, in the Village Centre. RSVP for that event to Jill@JillBanks.com.
Banks' "Witness" exhibit runs concurrently with many exciting events being held at Katie's Coffee and the Old Brogue during the month of March, including the Annual Celtic Concert series and the Snuggery St. Patrick's Day Irish Concert, celebrating the Brogue's 35th Anniversary. Reservations required for these events. Go to oldbrogue.com for details.
See more of Banks' work at the Artists' Atelier, where she shares studio space with nine fellow artists. The Atelier is located at 756 Walker Road, Great Falls, and is open on Wednesdays, noon to 4 p.m.; Saturdays, 10 a.m. to 2 p.m.; by appointment or by chance. Visit www.GreatFallsAtelier.com.
Banks offers classes through the Arts of Great Falls, including Painting the Plein Air Landscape, Still Life and Evening Paint that will be starting in early April. And, from June 26 to July 3, join her Paint with Me in Italy workshop held in the Piemonte wine region of Northern Italy. Beginners to advanced students welcome to come enjoy this trip of a lifetime. Read about the Places We'll Go on at www.JillBanks.com.