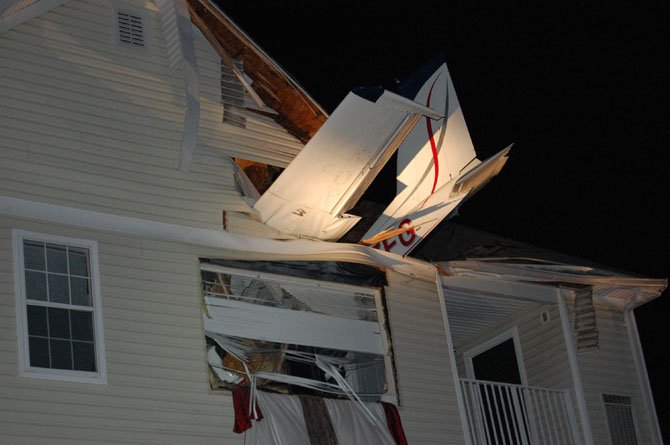 Virginia State Police were called to an apartment complex on the 2200 block of Astoria Circle in Herndon at 12:17 a.m. Friday, May 31. A two-seat, single-engine Cessna had crash landed into the top floor of a three-story apartment building. The nose of the plane came to rest on the living room floor of a third-story apartment.
There were four adults and two children asleep in the apartment at the time of the crash. One of the adults, a 33-year-old female, was transported to Inova Fairfax Hospital for treatment of non-life threatening injuries. No one else in the apartment was injured, nor any others in the apartment building. However, there was significant exterior damage to the apartment building and state police evacuated all occupants. The Red Cross is assisting those residents.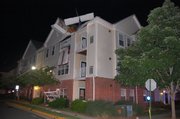 The pilot of the plane, William Larson, 61, of Vienna, was transported to Inova Fairfax Hospital for treatment of serious, but non-life threatening injuries. The plane's only passenger, Tache L. Alejandro of Orlando, Fla., suffered only minor injuries and was treated at the scene.
Larson and Alejandro work for an aerial photography company and had been in the air taking infra-red photographs, when the plane experienced electrical problems and the engine cut off. Because the plane was also running low on fuel, Larson had contacted Dulles Airport to re-route its destination. Originally the plane was to land at the Manassas Regional Airport. The plane had departed from Northeast Philadelphia Airport.
The NTSB and FAA have been notified and are investigating the incident.