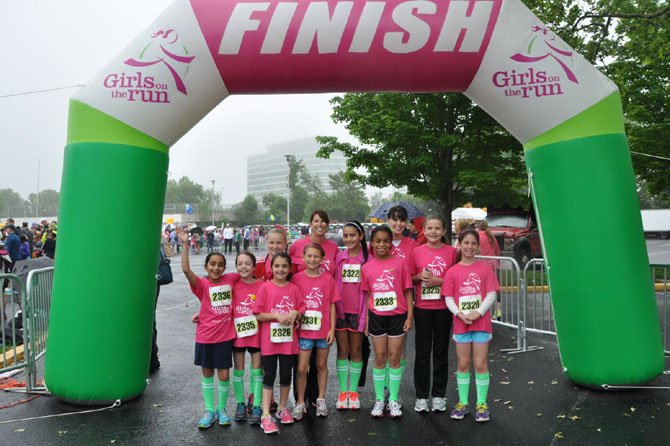 The motto of Girls on the Run:
We believe that every girl
can embrace who she is,
can define who she wants to be,
can rise to any challenge,
can change the world.
Can.
"I would never have become a runner if it weren't for 'Girls on the Run,'" said third grade student Amanda Oliver. "I used to hate running and now I love running with my new friends. It's tough, but it teaches you to keep plugging and always be positive."
Amanda's mom, Diane Oliver is equally impressed: "The message that this program teaches is wonderful and the parents owe a debt of gratitude to our three dedicated coaches."
"Girls on the Run" (GOTR) began at Seven Locks Elementary School in the spring of 2012 when parent Carrie Tydings initiated the program to empower as well as encourage positive emotional, social, mental and physical development with the third to fifth grade girls. Tydings had read about the Girls on the Run nationwide program on the internet. She solicited the help of two more coaches — Melissa Kupferschmid and Deb Muniz — and the three of them became certified in CPR and First Aid, ordered the manuals, took the training — and were literally off and running.
"There's a vast amount of research that has gone into this program," said Tydings. "The research shows that it is important to catch girls when they in elementary school and teach them the importance of healthy living, having a good body image, being physically fit, learning how to be a good friend, and much more. There is such a vast difference in the girls' levels of fitness and athleticism, but this program has something for everyone. They discover strategies and skills to solve problems, discuss challenges that girls have at this age, and learn a lot about themselves."
GOTR was founded in 1996 by Molly Barker in Charlotte, N.C. The program is now nationwide as well as international and is at "700,000 girls and counting." GOTR "allows every girl to recognize her inner strength" and to "define their lives on their own terms." Throughout the 10-week spring and fall sessions, the girls make new friends, build their confidence and celebrate "all that makes them unique." At Seven Locks Elementary, the group of 12 girls meets twice a week to run, play games, learn a "life lesson," and have fun exercising together.
"The program really helps you the think about your health and how good exercise is for you," said fifth grader Jenna Kupferschmid. "It teaches you how to deal with real life situations like bullying or gossip. We also play fun running games where we identify our feelings and talk about situations where we felt a certain way such as happy, sad, depressed, frustrated, angry and more. To help us make the right choices, we learn to 'Stop, Breathe, Listen and then Respond.'"
Coach Melissa Kupferschmid is thrilled to serve as a coach for the program. "It's all about girl empowerment," she said. "It's about buying into the positive. We teach that girls can choose to be positive and productive and how good it feels when you are."
Fifth grade student Wysh Anstine described what she has gained from the program: "I believe in myself and I've made new friends. I've learned about healthy eating and making good choices — and all about advertisements and how just because someone looks good in the clothes doesn't mean you will. There are lots of body types and if you don't match the models — you are still healthy and just fine."
The finale for GOTR is a 5K that is completed at the end of each 10-week session. Tydings said, "They run with a buddy — a parent, family member or friend — and everyone completes the 5K at her own pace. It is a real confidence booster. 'I never thought I could complete a 5K' is the proud statement from many of the young runners after they finish — with a wonderful feeling of accomplishment."